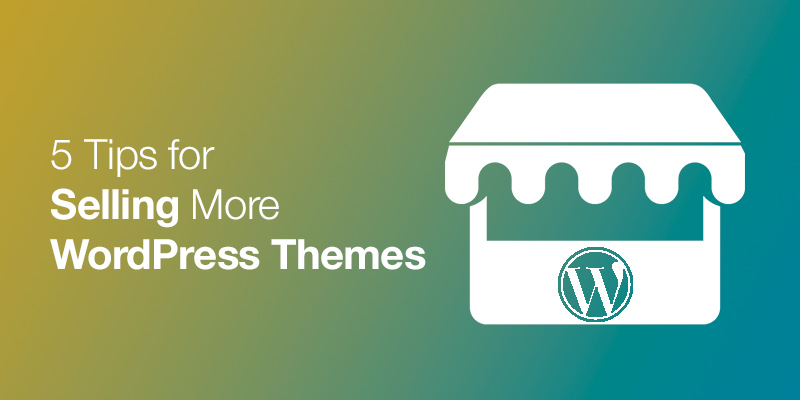 Marketing your theme or template is a necessary part of making money as a developer. Even though sites like Codester it can help you make sales, your own efforts will push you to the next level. After all, you're the best person to promote your creation to the world.
If you want to succeed, take off your developer hat for a moment. As you read through these tips, think like a marketer. Focus on what will work best to bring in sales. The advice you'll find here is simple but you need to put in your best. As long as you are consistent with your efforts you'll see positive results.
1. Choose your target market
If you target a specific market, you'll be able to create a better sales message. When you customize your theme to fit a target group's needs, it will be more appealing. You will find it easier to find people already interested in your project. If you want affiliates to promote your product, you must have a clear idea of who the perfect buyer is.
On the other hand, if you just "wing" it, your marketing will be all over the place. These days people want things created to suit their particular needs. Without knowing your market you will find it hard to convince people to buy from you.
So, what is a target market in the first place? You can look at it as a group of people with common needs. In most cases, you'll be targeting business owners or bloggers who are trying to make money online.
Decide what kind of problems you enjoy solving. Do you want to help real estate agents sell more homes? Or perhaps you're a fan of dog grooming services. Make a list of all possible markets you could serve. Sleep over it before you make your final decision. When you're ready, pick a market and stick with it!
2. Create functionality that sells
Many developers make the mistake of focusing mostly on visual appeal. Although the design is crucial, these days it's not enough to stay competitive. You have to make sure that your theme truly improves the daily lives of your buyers.
Again, that's where having a specific target market comes in. Your theme must have functionality that automates difficult business tasks. For instance, real estate agents need to promote dozens of properties every day. Your theme should make it easy to upload photos and descriptions.
Here is something a lot of developers don't know. People often buy a WordPress theme based on how easy it is to use the back end panel. Remember, not all buyers are tech-savvy. If they can't easily change theme options they'll end up frustrated. For this reason, an attractive theme will lose potential sales if the back end is too complex. Keeping this in mind will help you avoid refunds and negative reviews.
3. Provide after-sales support
Sadly, many developers don't provide support for their WordPress themes. This affects your marketing because your potential customers are scared of being disappointed. They may end up not buying your theme if they feel you'll "dump" them after the sale.
If you want to take this a step further, create a support forum on your website. This will give you two advantages in the marketplace. For one thing, people will take you more seriously and you will gain more trust.
Secondly, the content created by your users is a powerful SEO tool. Google loves fresh content that is focused on a specific market. The better you serve your market, the higher you'll be placed in search results. This will drive fresh traffic to your add templates.
Don't forget that people like to research before they make any purchase online. The way you treat customers after they buy from you can make or break future sales. Make sure that you make it clear that you'll be there for your customers when they need you.
4. Join relevant communities and build your authority
There are many ways you can put the word out about your theme or template. The best way to attract loyal buyers is to become active in various online communities. This goes beyond the usual social media sharing.
People gather online to solve problems. They're always looking for experts who will show them how they can save time or money. If you want to market your theme, you have to join the ongoing conversations.
See it at as a form of "authority marketing". You can establish yourself in the marketplace by sharing your expertise. The more you help others, the more trust you gain. As a result, buyers will have confidence in the products you create. People will also recommend your product to others, thus helping you sell even more copies.
To find the best communities search through Facebook, Reddit, and Meetup.com. Look for communities focused on your target market. Join a few and start providing useful tips and advice.
It's very important that you don't start linking to your template as soon as you join a community. Make sure that group leaders are aware of your contributions first. It's usually best to ask for permission before doing any self-promotion. The good news is that with time you may get moderators to promote your product for you. This is a long term strategy but the rewards are enormous.
Marketing your WordPress theme or template comes down to attracting the right audience. You will stand out if you focus on serving the needs of a specific market. With time, you can use your experience to branch out.
Conclusion
The fact remains that most developers are not very keen on marketing. Yet, those who make the effort reap the most rewards. As with everything else, it's all about how much work you're willing to put in.
If you want to become a top seller, start applying what you've learned here right away. Since marketing is the key to making sales you only stand to gain by making it on.
Join over 50,000 developers, designers and entrepreneurs!
Get exclusive articles, special deals and freebies delivered straight to your email inbox!