Would you like to develop your own app to release on iTunes or the Play store? One of the quickest and easiest routes is to buy a game template from Unity. If you are a beginning Unity user or programmer who is willing to learn how to use Unity, you'll find it easy to use any of these game templates and tweak them to create something unique. Here are the top five Unity game templates available right now.
1. Slice – Unity Source Code

Slice lets anyone create a Fruit Ninja-style swiping game in under a day. The game lets you add new skins onto objects that shoot up onto the screen. Players have to swipe these objects in order to break or cut them and earn points. The game physics and controls will be instantly recognizable to anyone browsing apps online. Slice is one of the best templates for new Unity users or programmers who want to release their own app and start earning money.
This app works on any iOS or Android device running 2.3 or higher and it's recommended that you have Unity3D 5.3. or higher if you want to start modifying and re-skinning this app. This app comes with comprehensive instructions that let you search for detailed information about how to re-skin this game. Simply put, your objects in the Assets/Prefabs folder and then drag and drop them into the game scene you wish to use. Google Play Services such as a leaderboard and achievements are already built into this template and a code is provided if you want to start running Unity Video Ads. Having players watch a reward video to gain an extra life is one of the best ways to start earning money with this app.
2. Fidget Spinner Unity Template
This is the perfect game template to create your own version of a fidget spinner app for Android devices. While many beginner programmers don't have time to learn Unity well enough to tweak templates with advanced code, this template is a cinch to modify. Made with Unity 5.5.2f1, it is recommended that you use this or later versions to re-skin this template. The template comes with comprehensive re-skin instructions explaining how to link your IDs to the game.
This fully customizable template allows you to modify any aspect of the game, from the colors, shapes and sizes of the spinners right down to how they look and behave. The app comes with a Facebook link, a Twitter link and a Rate link, plus a Google leaderboard to players can see how they compare globally. This template can be ready in a single day and uploaded to Google Play store.
This template lets you choose how you monetize your app. The Fidget Spinner Unity Template lets any wannabe programmer easily run AdMob banners and interstitial adverts. You can offer either UnityAds reward video ads or AdMob videos to help your players make progress while you start earning money right away. This template includes the Unity in-app purchases system so players can buy new skins and spinners and even pay to remove ads from the game.
3. Angry Zombies – Complete Unity Project
Based on the same concepts as the perennially popular Angry Bird game series, Angry Zombies is a great template for any beginner Unity user or programmer. It's a highly addictive game allowing users to sling a skull at varying trajectories and speeds to knock down zombies. This app is simple to re-skin, monetize and release. No coding skills are needed for anyone to buy this template and add different skins. With a little creativity, you could have the next hit app on your hands.
Angry Zombies is a great template to modify, as the gameplay is so simple and well-known. The beautify 2D cartoon graphics will pop out at people browsing the Play store or iTunes and most players are familiar with the game mechanics. The key appeal of this game for beginner programmers is that while it is written in full C#, no coding is required to easily turn the parameters. Unity Ads and AdMob are fully integrated into this app meaning that anyone can buy this template and start earning money.
4. Stickman Jumping Unity Complete Project
Stickman Jumping is an addictive and potentially profitable game that requires Unity 5.6 or higher to edit and customize. Available for just $10 on codester.com, this game lets players control a jumping stick figure with just two buttons: Jump and Turn. Beautiful 2D cartoon graphics will have users hooked while trying to get the longest distances in the game.
Perfect for beginning programmers, Stickman Jumping is very easy to re-skin. No coding skills are required as you simply edit the Sprite sheet. The game includes AdMob and Unity Ads to monetize the app and help you boost your revenue.
5. Keepy Up Bird – Unity Source Code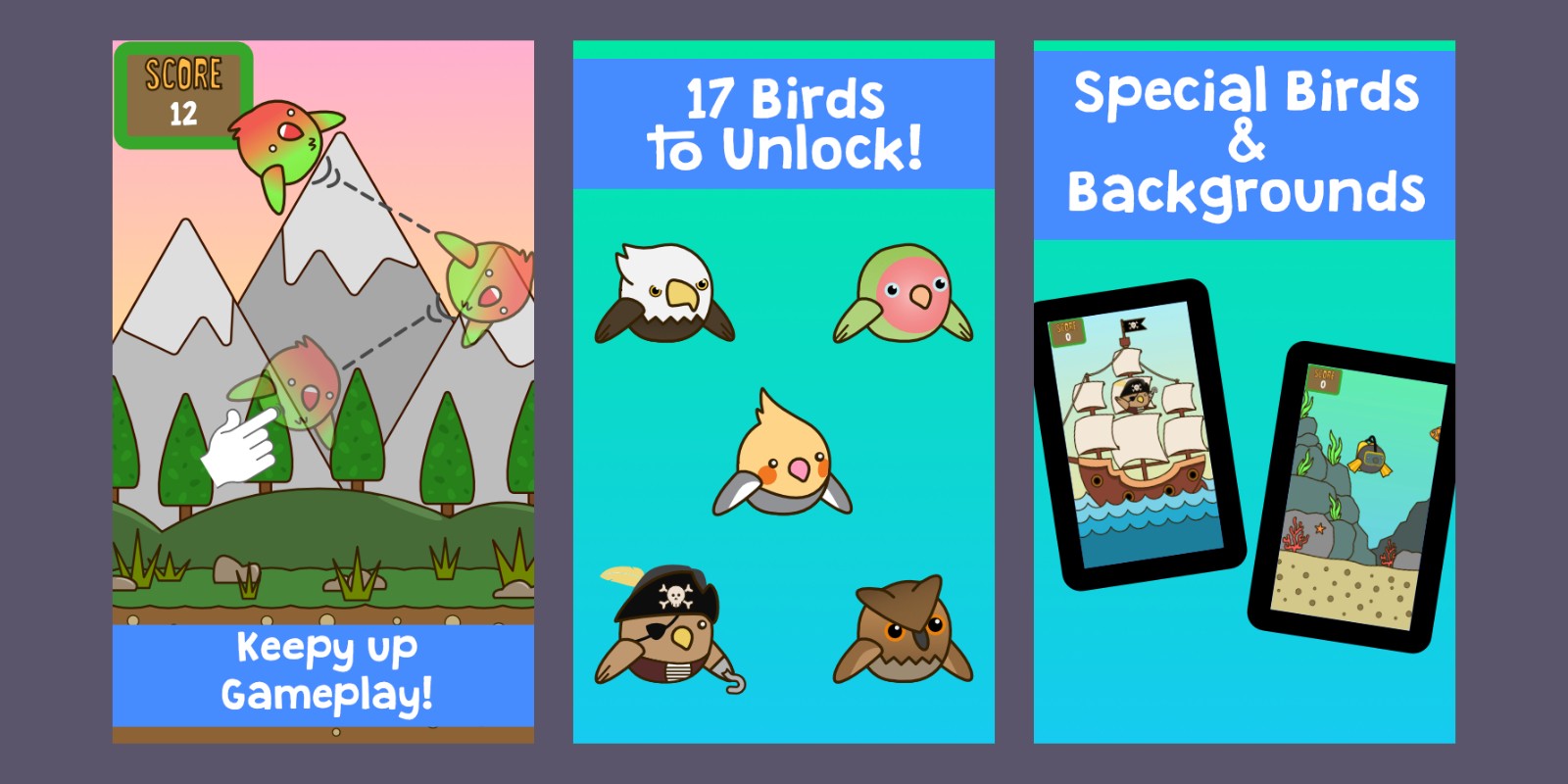 This game is a Flappy Bird-style app where players tap anywhere on the screen to give the flying object a boost. The score is based on how many times you can tap without crashing. To re-skin this game, you'll need Unity 2017 and a little understanding of Unity, such as how to insert your own AdMob Ad Id. Luckily, this game comes with full instructions on how to re-skin and even has a tutorial video to explain everything. If you offer an in-app reward video to help players continue their game, you can be sure of earning money with this app.
Conclusion
These five Unity templates are perfect for any beginning user or programmer who is willing to learn how to use Unity. None of these apps require any coding skills and they all come with detailed instructions. With a little creativity and patience, anyone can create a revenue-generating app and add it to Google Play, iTunes or the Windows Store.
Join over 50,000 developers, designers and entrepreneurs!
Get exclusive articles, special deals and freebies delivered straight to your email inbox!