If you're looking to boost your business these days then creating a native app is the way to do it. Native apps are applications that have been written for a specific platform – usually mobile computing in the form of smartphones – so they can take full advantage of all the technology available on that platform. Eighty percent of internet users own a smartphone and the majority of them use their phone more often than they use a computer, so having an app available lets you reach these important potential customers. Sure, they could click into your website on their phones, but they're much less likely to do so. If they do, they're highly unlikely to make a purchase. After all, desktop websites tend to be difficult to navigate on smartphone browsers and many customers are reluctant to buy from their mobile browser. This isn't the case with apps, however. Almost 90% of media time is spent on apps and consumers are happy to make purchases through a branded app. This is why you need to convert your website to a native app.
You might be reluctant to make the switch, imagining weeks of studying coding textbooks or a hefty fee for hiring a developer. Luckily, it's really not that hard or expensive to convert your website over to app form. There are plenty of app templates already out there to help you make the switch from website to Android app, so why not make the change? You certainly won't regret it when you see your traffic and sales rates soar. Without further ado, here are five handy app templates you can use to convert your website into a native app.
The WebApp application lets you convert your website into an app in just ten minutes and requires absolutely no programming skills. This makes it the perfect option for a user who wants to get their app on the market without fussing about with a lot of code. It offers Admob support so that you can earn extra money by displaying ads in your app, which is particularly useful if your website isn't a direct earner like an online store. It also offers a customizable navigation drawer menu and Google Analytics support at a very fair price.
The WebToNative app is relatively new but already popular on the native app scene. It's a useful package that lets you easily convert any website into an Android app without a lot of hassle. It doesn't require any programming skills but uses a simple integrated browser to let you turn your website into a smoothly running app. It's compatible with local HTML files so it doesn't require an internet connection which can be a huge advantage if your audience is broader and less likely to use data when they're on the go. WebToNative also offers Admob Interstitial Ads so you can earn money by displaying adverts in your application too.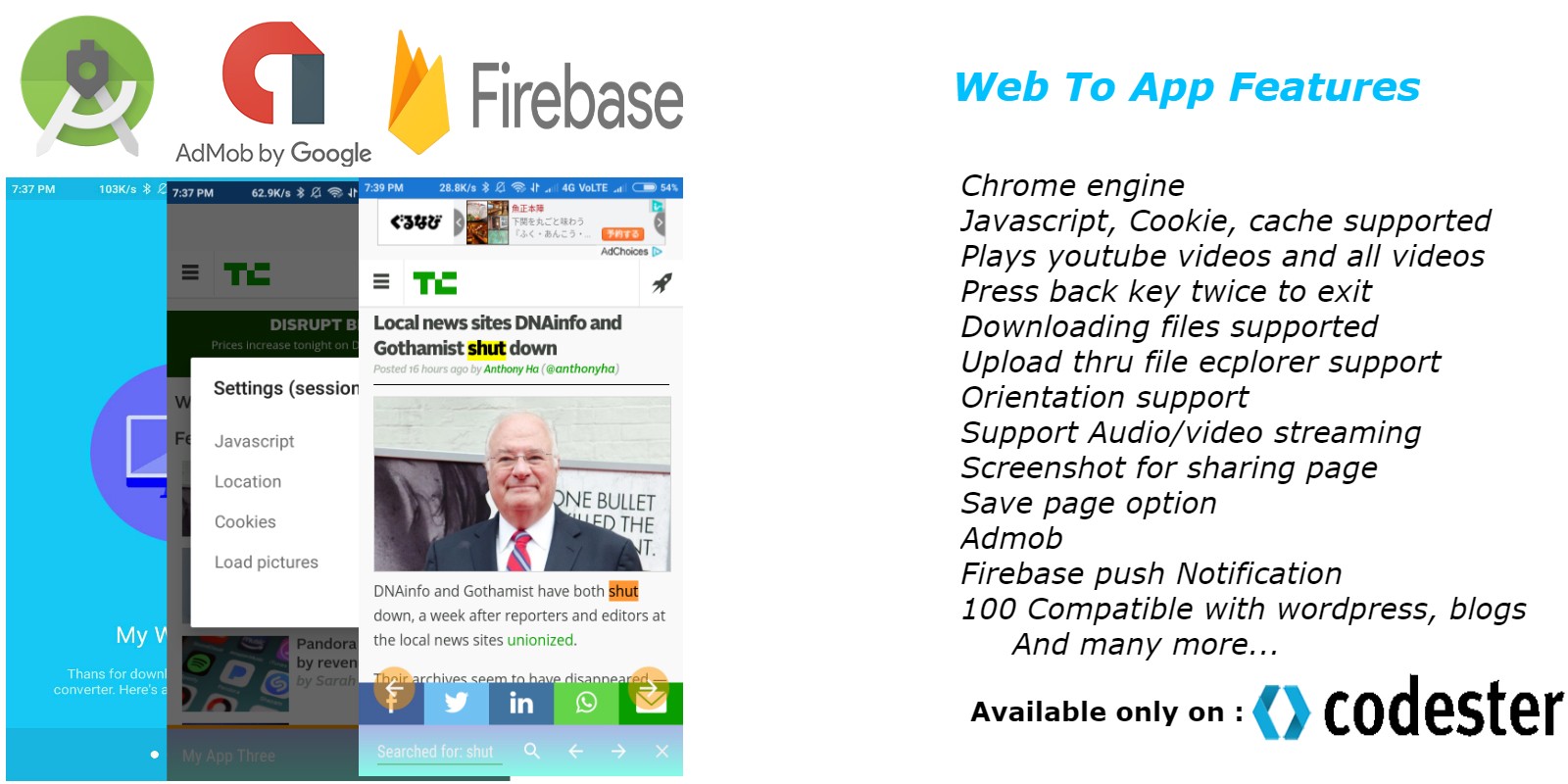 The Web To App application is slightly pricier than some of its competitors but it comes with more functionality as a result. You can access the regular license for $49 and upgrade to the extended license for a cool $147. The Web To App features include the ability to play YouTube and other videos, download files, save pages, and send push notification using Firebase. This last feature is particularly important because it lets you remind smartphone users about your app by sending regular notifications to their phones, whether it's about a new blog post, an ongoing sale, or breaking news.
The Website To Application app is a great option if you're aiming to convert your website into a native app without a large financial cost. The regular license price is just $9 so you can get your app up and running without committing a large sum of money upfront. However, it still contains a lot of the features you might expect from a more expensive app. For example, you can create a splash screen of your logo to pop up when users are entering or loading your app. You'll also be able to feature a loading bar, "About" dialog box, and a download manager.
The Convert Website To App application is another heavy hitter that comes at a very reasonable price. You can access their regular license for $9 and pay just $27 for their extended license. The app is also super easy to understand so it's perfect for beginners or website owners who aren't actually particularly tech savvy. You'll be able to add in a splash screen, custom text on your loading screen, and a custom error page for your app. It's a helpful app template that will turn your website into a native app without requiring any technical know-how.
Conclusion
Having a native app is one of the best ways to increase your sales and brand recognition, get users to spend more time browsing your content, and encourage customers to return. Building an app used to require an experienced developer and a hefty paycheck but it's simply not the case anymore. Use one of these helpful app templates to convert your website into a native app and watch your popularity skyrocket.
Join over 50,000 developers, designers and entrepreneurs!
Get exclusive articles, special deals and freebies delivered straight to your email inbox!