4 In 1 Buildbox Bundle
4 awesome Buildbox games to help you go viral!
×
This item is temporarily not available for sale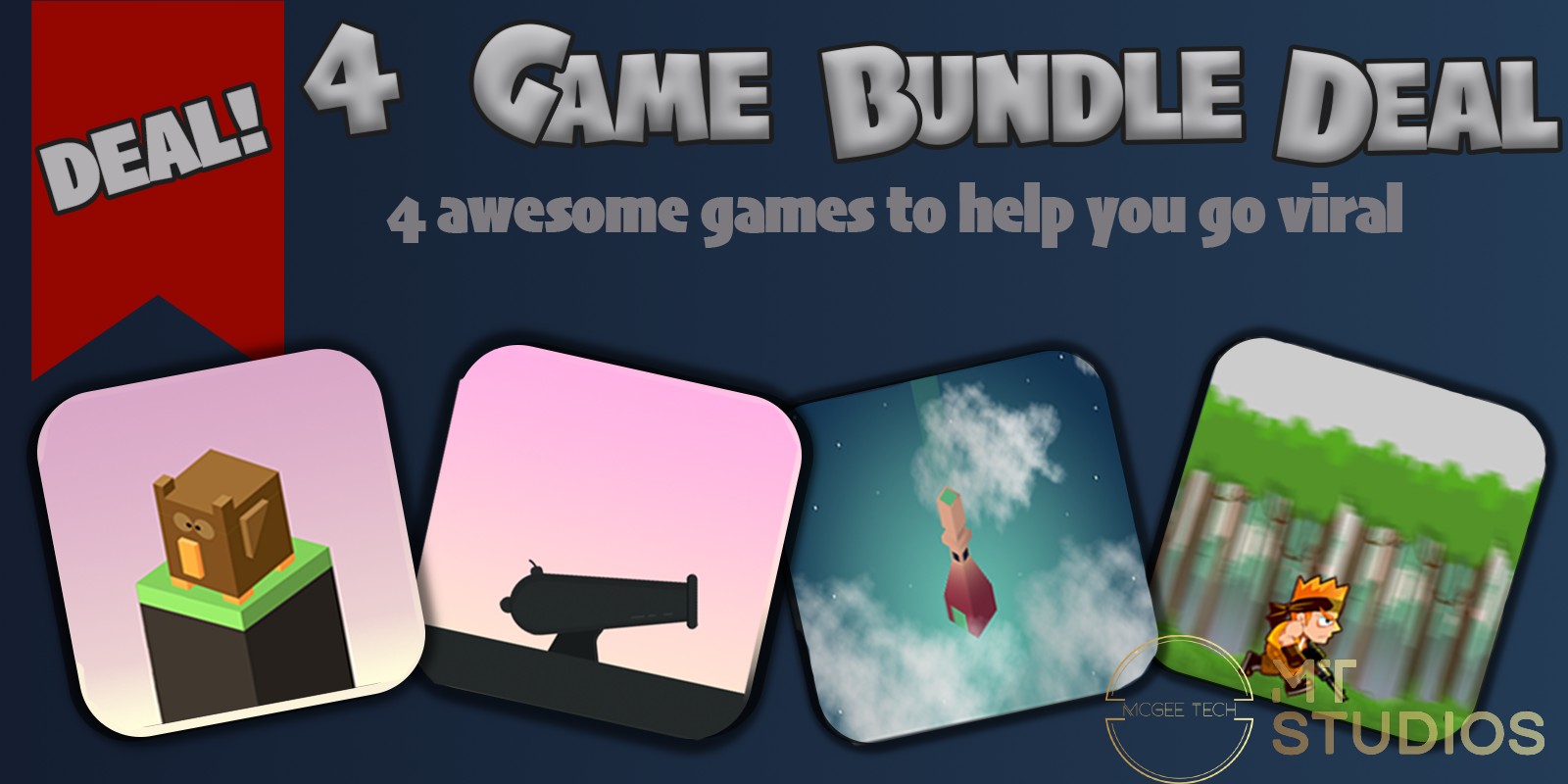 Overview
                                                  Popular games bundle
Quickstart bundle pack, These templates have got the ball rolling for you and are ready for your creativity to make them hits.  They all include a variety of Graphic assets, giving you a variety of ways to build them.
These games have had great success, so we've bundled them together to bring you a bundle of deals!  These games all have features not found in preset templates from Buildbox and have been hand built and tested for high quality gameplay ready for your re-skin.  ASO and marketing  can go a long way with this bundle for making each one viral.
WHATS INCLUDED:
four premium games (BBDOC)
Exports (IOS & Android)
All graphics assets and animations... Well over 100+ (AI & PNG)
All sound files (.MP3)
Icons
Our free support to help you with any questions or problems you might have.
READ-ME doc with quick-start guide
Don't hesitate to contact us with any questions.
Features
Pathways 

2 Levels built and ready as is
all graphics and sound effects
6 cute animals with multiple (PNG & AI)
IAP, all settings and animations set up
All UI/UX set up
Simple level building and re-skin.
Ads ready 
Hyper-casual style
points reward
soothing and relaxing gameplay
 https://www.codester.com/items...

Passages

3 Levels built
All graphics and sound effects

IAP
All settings and animations set up
 all UI/UX set up 
unique level selection
 rewarded videos
ads ready
 Multiple characters (PNG)
Challenging and addicting game play
Hyper-casual
https://www.codester.com/items...

Commando

Multiple environments 
100+ Graphic assets 
30+scenes 
platformer (Super Mario like)  
jump on or into boxes for coins (Super Mario like)
daily rewards 
health bar 
timer
 rewarded videos 
action packed adventure
cool animations 
Multiple characters
Multiple device optimization 
shield
shop 
social media 
fun adventurous game-play
https://www.codester.com/items...

Tower Tumbler

multiple game modes
30+ levels
easy re-skin
rewarded videos 
several cannons 
all graphic assets 
all .MP3 files 
UI/UX set up
animations and settings set up
daily bonus
fun and unique power ups
Hyper-casual style 
Instructions
unzip the file
adjust anything you need to
export and enjoy!
If you need anything or need help with something, don't hesitate to contact me via email 
spencerkmcgee@mcgeetechs.com
Im more than happy to help and solve any questions.
Information
Category
App Templates / Buildbox / Casual
First release
26 November 2018
Last update
3 December 2018
Operating Systems
iOS 10.0, Android 7.0, Android 8.0, iOS 11.0, iOS 8.0, iOS 9.0, Android 4.0, Android 5.0, Android 6.0
Files included
Layered .psd, Layered .png, .csproj, .apk, .ai, build.settings
Tags

template

,

android

,

deal

,

mobile

,

iOS

,

game

,

arcade

,

Unity

,

2d

,

Action

,

bundle

,

3d

,

buildbox

,

hypercasual

,

aso