Network IP Tools - Network Utilities Android App
Check your device ip, ping, Gateway Info, Check Ping of Your Host, LAN Scanner, Port Scanner, DNS Lookup , Whois , Traceroute.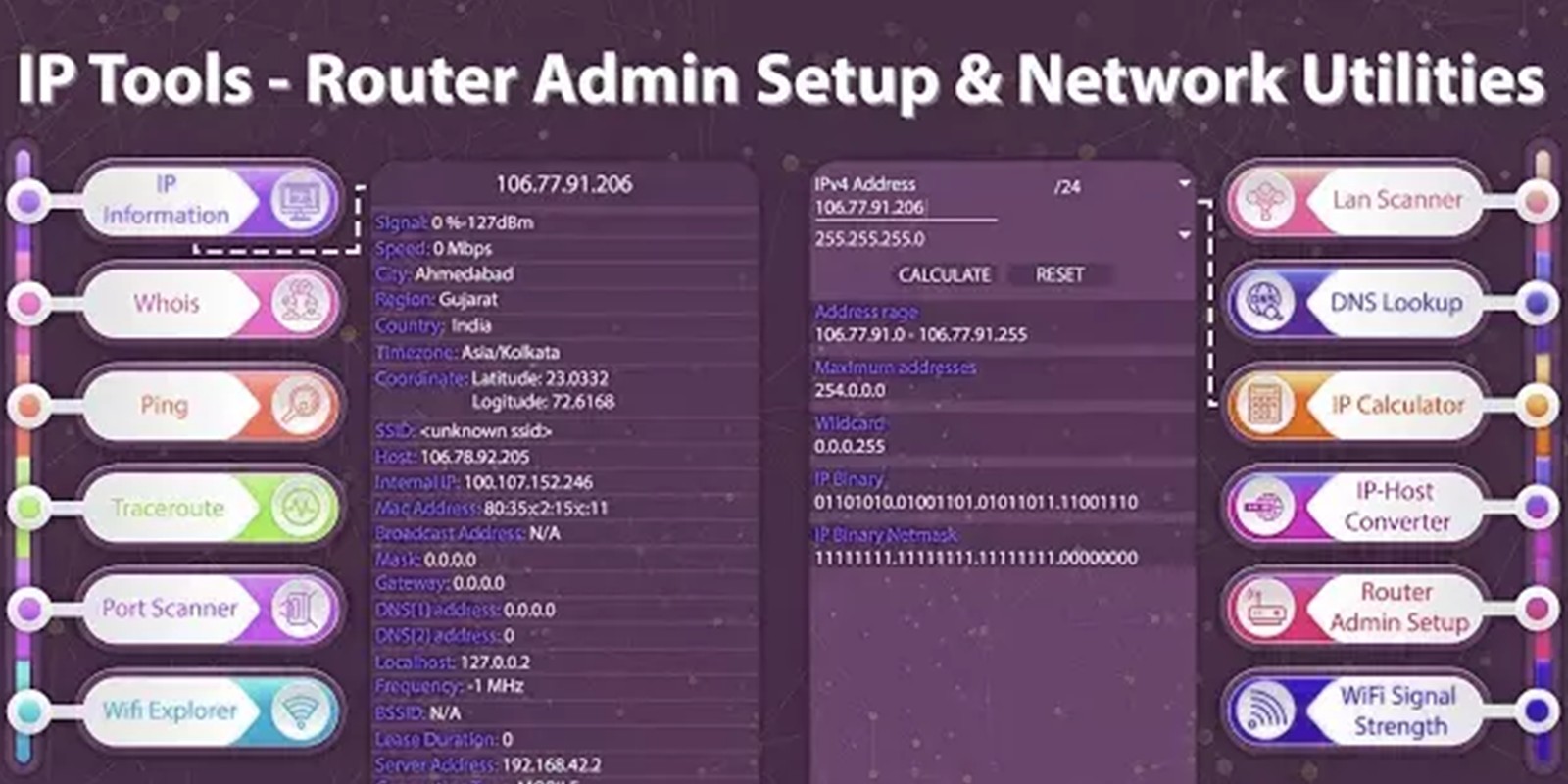 Overview
Click Here For Demo Apk

Network Ip Tools is most powerful & helpful network IP toolkit for test speed up and setup your networks. This app allows to quick detecting any type of computer networks problems, Detect IP address and checking performance of network with dns lookups and Ping.
Network Ip Tools has a simple Layout & interface, enabling to receive detailed information on your mobile network, find out internal/external IP address, BSSID, SSID, view broadcast address, See gateway, View network mask, DNS Lookup of device, device country, region, city, the provider's geographical positions (like latitude and longitude) and other more information such as DNS information of server.
Network Ip Tools include special features like that :
~~  Whois - Gives Information about Website and Its Owner
~~  LAN/WIFI scanner: Discover all devices connected to your network
~~ IP scanner (Scans Private/LAN and IP networks(public))
~~ Full details of any device including Device IP address, Device MAC address, Your Device Name, Vendor of Device, Your Device Manufacturer and many more information.
~~ Inventory of networks and devices
~~ Check your Internet Connectivity
~~ IP calculator - Network Info
~~ Analysis of ISP and location
~~ Internet Info using IP Tools
~~ Check your Network Signal
~~ Check Network Tools
~~ Network Tools IP Utilities
~~ Check your host ping using Ping - Network Ip Tools
~~ Reverse DNS lookup and DNS Lookup
By selecting Network Ip Tools you get the following suite of network tools:
~~ Check Ping of Your Host
~~ LAN Scanner
~~ Port Scanner
~~ DNS Lookup
~~ Whois - provides information about a website and its owner
~~ Router Setup Page
~~ Traceroute
~~ WiFi Analyzer
~~ IP address with "My ip" feature
~~ Connection Log
~~ IP Calculator
~~ IP & Host Converter
---
---
What You Get :-
Full Android App Source Code
Documentation
---
Installation / Re-skin Support :-  IN JUST $40*

Re-skin your app with your details like :
Add Your Logo
Change Splash Screen
Change App Name
Change Package Name
Add Admob Monetization
Push Notification
Change App Theme
Remove Facebook Monetization
* All Re-skin details should provided by the client before working.



---
Contact Us :
              Skype :       live:51e9a988e1120056
              Email :        ukosoft@gmail.com