SavinLo - Savings Loan Investment Script
Savings, Loan and Investment System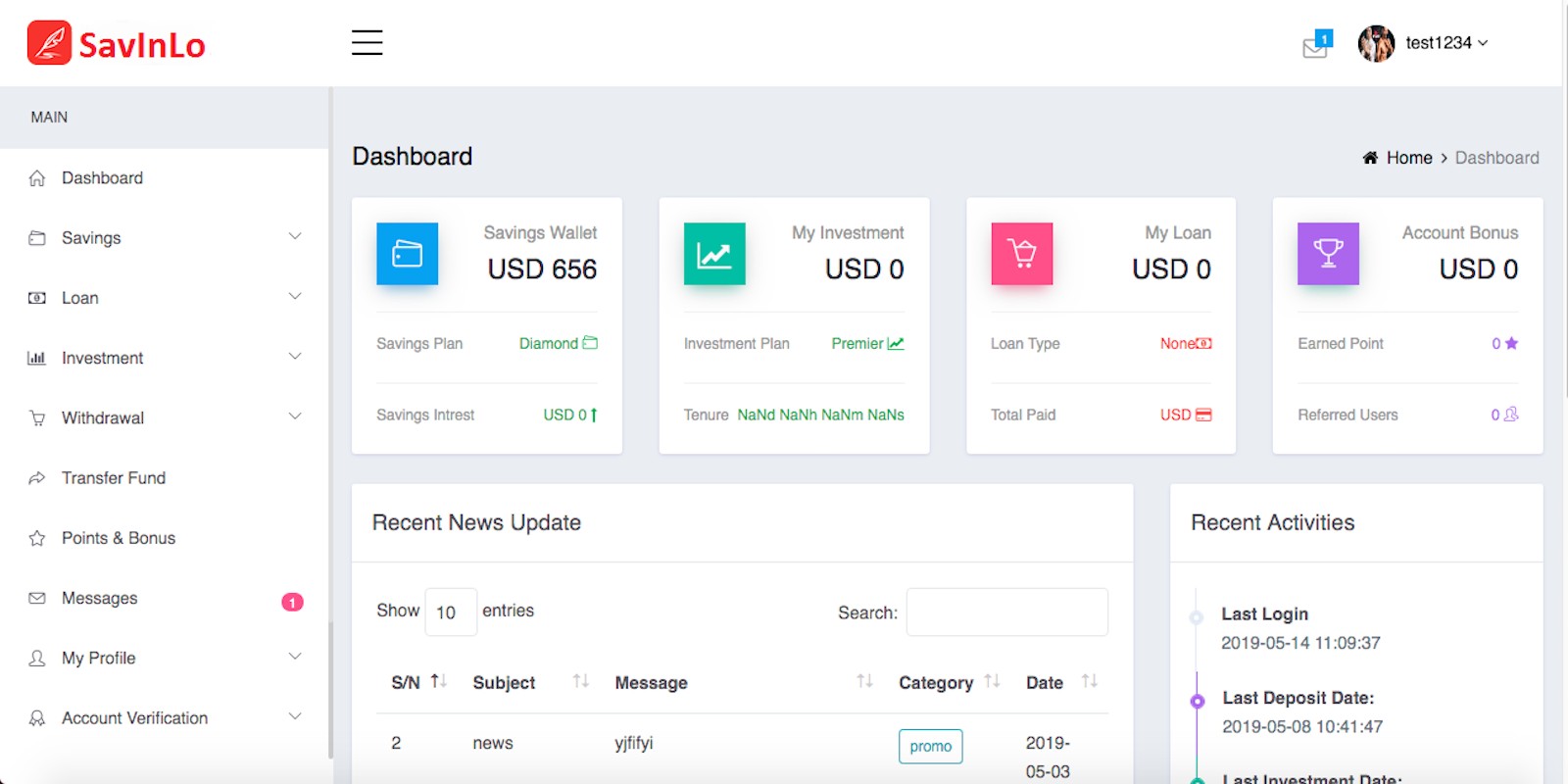 Overview
Savings Loan & Investment system with a secured algorithm for a secure savings, loan and investment scheme. Just like piggyvest or renmoney and lots more


Suitable for financial institutions, loan facility agents & investment facility agents.
Users Integration:

(1) User can register
(2) Apply for loan, savings plan or investment plan.
(3) Pay the required amount for the application as set by the admin
(4) Watch your savings and investment grow
(5) Withdraw upon reaching withdrawal eligibility based on time as set by admin
(6) Upload avatar.
(7) Upload ID for account verification .
(8) Referral system to earn money upon referring new users
(9) Transfer funds to members on the same platform.
(10) Ticket system for users support.

(11) Supreme and unique users experience with a user friendly interface.
Admin Integration:
(1) Admin creates loan plans, savings plan and investment plans.
(2) Create user if needed.
(3) Edit created plans.
(4) Overall maintenance of the system by admin with a unique content management system.
(5) News and Notification System
(6) User management
(7) Account Validation system
 Lots More.
Features
Savings Loan & Investment system with a secured algorithm for a secure savings, loan and investment scheme.
Requirements
Server Type: Linux (Shared / VPS / Dedicated)

PHP Version: 5+

mySQL Version: 5+


Instructions
Step1: Upload khaytechsavinlo.zip to your host and unzip.
Step2: Create mySQL Database and Database User.
Step3: Go to your root folder and locate config folder open database.php file inside the folder using a good text editor and edit to conform with the earlier created database.
Step4:Replace DB Name DB User and DB Password with your Hosting settings on line 2, 5, 12, 13
Step5: Import database.sql from database folder in the root folder to your Phymyadmin as created earlier in step 2.
Step6: Setup Complete, login and remember to change your administrative password.
Step7:  Ensure to create a paystack account and get your public key for use in the payment gateway settings to allow payment using credit card or debit card as so wish by you.