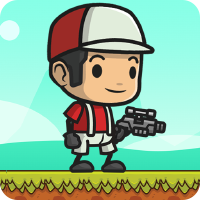 Super Boy Shoot And Run Buildbox Template BBDOC
Super Boy Shooter - Shoot and Run Buildbox Project BBDOC Template is an Endless Shoot and Run Game with Awesome Features
Overview
Super Boy Shooter - Shoot and Run is an Endless Super Addictive Shooter Game when you Shoot Enemies, jump and slide to avoid obstacles and collect coins.
* Shoot Enemies
* Jump over Spikes
* Slide under Obstacles
* Fly with Jetpack
* Fly with Airplane
* Drive your Car
* Collect Coins
Your Goal is to shoot as many enemies as possible, Beat your High Score and share to your friends .
This Game has been created with buildbox 2.2.8 (BBDOC file included).
Features
Easy To Reskin (with Spritesheet Editor)
Easy Ads Integration (Admob, chartboots etc with Buildbox)
Universal (Phone & Tablet)
Rate and Sound Button
Simple Tap Game
Files Included:
BBDOC Project ( Buildbox 2.2.8 )
Exported Android Code ( by Buildbox 2.2.8 )
Android Documentation

Note: Change all Graphics and Sounds before Submitting your game
Requirements
Buildbox 2.2.8 / Higher
Eclipse or Android Studio
Graphics for Game Reskin 
Instructions
Instructions in Documentation Folder