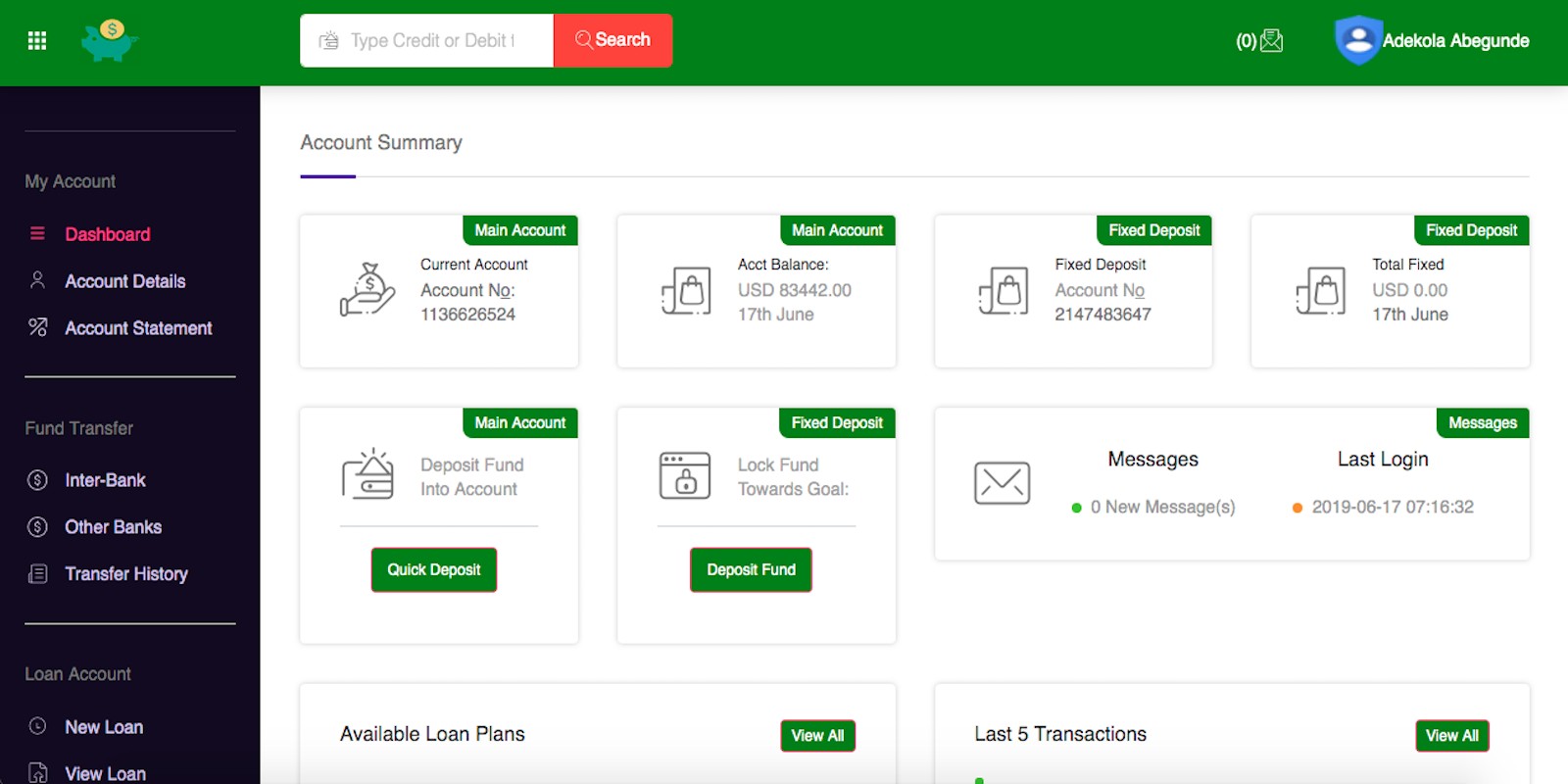 Overview
Khaytech Digitalz Online Banking System (AWA-Bank) is created with the very best of features an online bank can provide. Developed with the latest PHP architecture to provide banks with a seamless digital banking modules. 
Created with secure bank transfer modules to ensure fund goes to the required customer both within the bank and any other external bank with premium features including Charts for clear overview of all bank activities, Fund transfer within bank and external banks using Paystack and Ravepay Payment gateways. This has carefully been created to conform with all digital bank code  and ethics to provide you with the very best digital banking operation
This has been developed with in built APIs to connect with virtually all banks in order to ensure fun transfer goes to the needed recipient and not another person.
<b>
Features includes <br>
(1) Secure Login System<br>
(2) Smooth codes and program line for easy integration into existing bank websites<br>
(3) All banks API to ensure safe delivery of funds during transfer<br>
(4) Lovely user interface for ease of use by customers<br>
(5) Already made code structure for easy conversion to Android and IOS Mobile app<br>
(6) Loan mangement<br>
(7) Advance messaging system to facilitate collaboration among staff, and customers<br>
(8) Efficient charts to give clear overview of bank activities<br>
(9) System settings to enable admin have autonomy over the bank script<br>
(10) Theme settings for easy integration into existing bank website having other colour scheme<br>
(11) Bank branch management for easy maintenance of the bank activities<br>
(12) Staff Module for staff management and sharing of duties to bank workers<br>
(13) Documentation for easy installation</b>
Demo Url: http://www.khaytechdigitalz.or...
Customers Login ID: test1234
Password: test1234
Transaction Password: test1234
Staff Url
Demo Url: http://www.khaytechdigitalz.or...
Staff Login ID: staff1234
Staff Password: staff1234
Admin URL
Demo Url: http://www.khaytechdigitalz.or...
Login ID: admin
Password: admin
Features
Safe Login System
Secure admin fund transfer

Clean Codes for integration into existing system

Admin Dashboard with advance charts to monitor modules
Requirements
*** PHP 5.4
*** MYSQL 5+
*** PHP ZIP Extention
*** PHP ZIP Extention
*** Internet Connection
*** Paystack Payment Gateway Account
*** Rave-Pay Payment Gateway Account
Instructions
Ensure you have uploaded the zipped script to your host
                                             
Unzip and copy the script folder in your hosting server.
                                             
Make sure the script folders 'customer', 'administrator' and 'staff' have permission set as 644                                             
Manually create a database using "Phpmyadmin".                                             
Open 'config' folder in the script and open a file inside named 'dbconfig.php'. You will need to edit line 2 and line 13 to point to the created database".                                             
Provide database hostname, database name, username and password on line 2 and line 13 in the opened file 'dbconfig.php' as created in step 3 above.                                             
Save the file 'dbconfig.php'                                             
Upload database file named database.sql in database folder to the created database in step 3 using PHPMyadmin option from your host                                               
You are good to go!!!