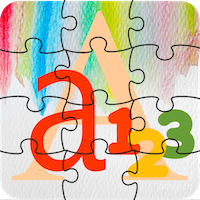 Jigsaw Puzzle Games- Android Source Code
Alphabet Jigsaw Puzzle Games and Number Jigsaw Puzzle Game for kids
Overview
This free educational game is a alphabet, flashcards and puzzles. These ideas are designed to work with preschool and kindergarten kids.It makes study English very fun.You can make learning with flash cards and puzzles fun with this game .
Learning the ABCs is fun and easy with this teaching tool.interactive alphabets from A to Z. Alphabet flash cards help children develop memory .Preschool English alphabet kids makes leaning English fun! Children love them and can learn just about many things with them.
Features
1. 4 category (alphabets, fruits, Number, Shapes)
2. 5 type of Alphabets
3. 1 type of fruits  
4. 2 type of number (0 to 10 number)
5. Almost shapes 
6. 3 type of puzzle game (Easy , Medium, Hard)
7. Select photo in your gallery for play puzzle game.
8. Take photo and play puzzle game.
9. also provide image preview 
10. share app , Rate app , More app 
Requirements
1.  Android
2. android studio 
3. android phone (OS 5.0 later)
4) phone and tablet support
5) android (Development language)
Instructions
App provide:-
1. Google ad mob. (banner ads and Interstitial Ads)
2. Rate app
3. More app URL
4. Share app
Note:- We set all available free images in this Application. All are this stickers set in local database, we do not tack responsibility for copy rights this all images.
What you get:-
-----------------------------------------------------
1. Full android Source code.
2. Design in png.
3. Documentation.