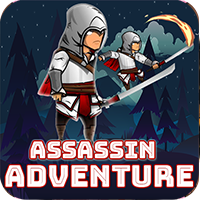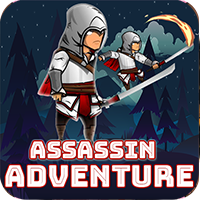 Assassin Adventure Game - Buildbox Template
Assassin Adventure Game - Buildbox Template
Assassin Adventure Game • Multi Levels&Character for buildbox, android, ios, reskin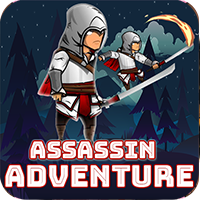 Assassin Adventure Game - Buildbox Template
Assassin Adventure Game • Multi Levels&Character for buildbox, android, ios, reskin
Overview
Assassin Adventure Game  IS  A VERY SUPER ADDICTIVE GAME WHICH SIMPLE GAMEPLAY THAT YOU WILL FIND FUN, CUTE AND FOR ALL AGES, THE MISSION IS COLLECT THE COINS AND BEAT YOUR HIGH SCORE , THIS GAME IS VERY FUN BECAUSE YOU CAN USE CUTE COLORFUL CHARACTER AND ALSO WITH (30+) UNIQUE LEVELS, SO LET'S PLAY THIS GAME . THE GOALS IS BEAT YOUR HIGH SCORE AND SHARE TO YOUR FRIENDS.  
Features
ADMOB INTEGRATED ( BANNER AND INTERSTITIAL ) 
★    TONS OF WEAPONS AND ARMOR TO WIN YOUR BATTLES
★    SIMPLE SWIPE CONTROLS. RUN, JUMP, FLY, ROTATE!
★    WEAPONS AND ARMOR WITH SPECIAL ABILITIES
★    FIGHT AND CRUSH POWERFUL WARLOCKS, SKELETON WARRIORS, EXPLODING ZOMBIES AND MUCH MORE!
★    BEWARE THE DEADLY TRAPS!
★    WATCH YOUR HEAD! THE HELHEIM WEATHER CHANNEL REPORTED FALLING SKIES!
★    INVITE AND BEAT YOUR FRIENDS SCORES!
★    AND REMEMBER! POTIONS AND LIFESTONES WILL SAVE YOUR LIFE!
★    GOLD COINS COLLECTION CHALLENGE
Endless gameplay
Universal (phone & tablet)
AdMob Banner and Interstitial
Share buttons
Rate Button
Sound On/Off Option
EASY TO RESKIN!
NO coding skills 
Requirements
❖ For Android – You will need Android Studio.
❖ For iOS – You will need macOS with Xcode 9+
❖You will require a Buildbox Software with valid Subscription (only needed to change the gameplay)
Instructions
This template is very easy to reskin, You will find a PDF User guide in this pack. which includes Eclipse And Android Studio and Xcode steps by step to import the project and export apk file. for more information check out these guides on buildbox.
In order to do any major gameplay changes, add levels, enemies, etc, Buildbox is required. On the other hand, you'll be able to reskin the objects, change menus, update AD Ids, and much more without having Buildbox installed. You'll find a documentation file that will guide you.