Insta Saver - Download Instagram Video Photo iOS
Insta Saver - Download Instagram Video Photo iOS
Full iOS app template - Save Instagram Video/Image posts to your photo gallery
Insta Saver - Download Instagram Video Photo iOS
Full iOS app template - Save Instagram Video/Image posts to your photo gallery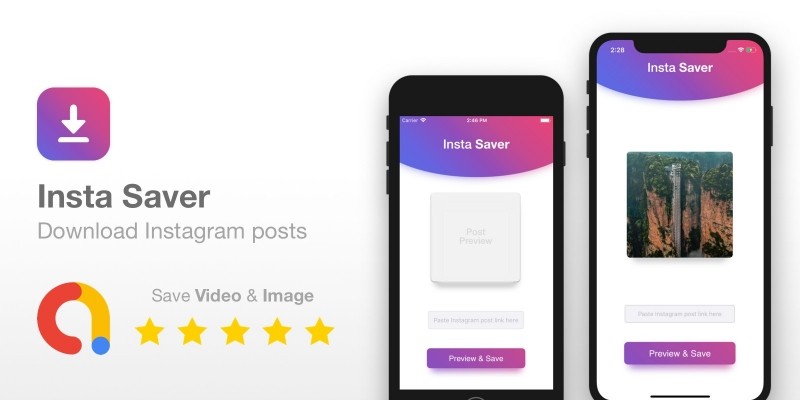 Overview
Over 1 billion monthly active users on Instagram. What does it mean for you?
As a developer, having an app that allows users to download video and image posts is incredibly lucrative
WHAT YOU WILL GET
Full iOS app as shown in the video demo above
I can provide help/support if necessary
HOW DOES THE APP WORK
User will go to Instagram app or website
User will return back to the Insta Saver app
Tapping on the text input will automatically paste the copied link
Tapping on Preview & Save will show a preview of the post and save it automatically to the photo library
CONTACT US:
Skype: Apps4World
E-mail: [email protected]
GET LOWER PRICES HERE:
https://apps4world.com/
Features
Built in Xcode
No Sign In necessary
No API keys needed
High Quality images/videos will be saved
AdMob Ads Integrated
Requirements
You will need a Mac computer with Xcode 11 installed.
If you want to publish this app on App Store, you need a developer account. I can help you set up one if necessary. Contact us!
Instructions
No changes are required, except changing the AdMob IDs with your own. It's pretty simple and we have a readme file that will guide you.