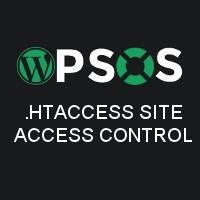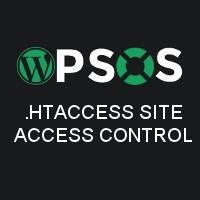 htaccess Site Access Control - WordPress Plugin
htaccess Site Access Control - WordPress Plugin
.htaccess Site Access Control plugin allows you to password protect your site: WP login page, admin pages, and/or the whole site.





Average rating of

5.0

based on

3

votes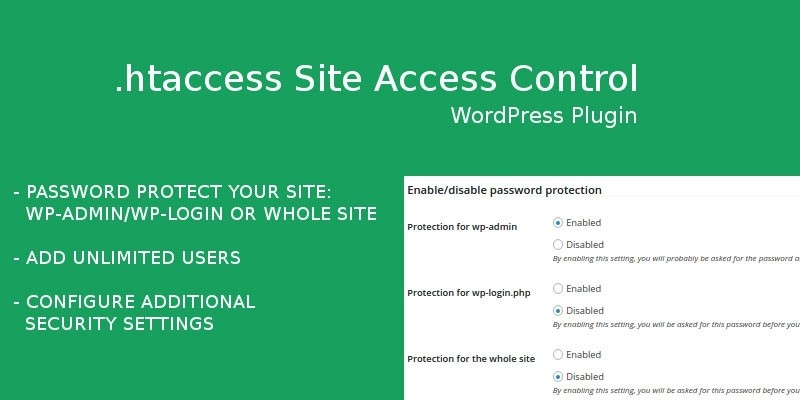 Overview
.htaccess Site Access Control
Try the limited free version out HERE!
Using the password protection will give you extra security layer of protection from brute force hacking attacks. Additionally, it's also an easy way to password protect your entire site, without needing to create separate WordPress users for each visitor.

When you enable the password protection, the user won't be able to see anything - not even see the protected page - until he/she inserts the username/password. You can password protect the whole website, including the administrator pages; you can password protect the administrator pages; or you can password protect the WordPress login page.


Features
Plugin features include:
Enabling/disabling the password protection to wp-login.php, WordPress admin pages. Note that you'll be asked to re-type the .htaccess username/password you created before enabling any of the settings – to ensure that you wouldn't enable the password protection without even knowing the password yourself! Modifying the existing users: you can change any .htaccess user's password and remove the users. Note that you have to add at least one user to enable the lock.
Add unlimited .htaccess users;
Protect your whole site, making it accessible to only those who have the .htaccess user.
Whenever the plugin makes a change to the .htaccess file, it stores the previous version in another file -- so, in case there is ever a problem, there's always a backup you can revert to!
You can view and review the entire .htaccess file (so you don't need to login via SSH or SFTP to review it)
You can turn off directory browsing
You can prevent a classic hack in which the square bracket is used to break the URI.
You can protect the wp-config.php so it can't be edited
You can disable PHP file uploads into the uploads directory
You can disable the hotlinking of images, for people trying to steal bandwidth from you.
Requirements
WordPress 4.0 and forward
PHP5
Instructions
Upload the folder `htaccess-site-access-control` to the `/wp-content/plugins/` directory
Activate the plugin through the 'Plugins' menu in WordPress
From the 'Settings' menu, there will be a new option, called '.htaccess Site Access Control'
Reviews
Jan 12, 2018

Rating:

Good plugin. It works and it do what it should!

May 10, 2017

Rating:

I like this Plugin, I would like to see if you guys can make an update to create a search option for added users or a way to make it aplhabetical format. it seems to go straight down no matter how many users you add, with no pages or searches. but overall i really like the plugin and works great!!

Apr 27, 2017

Rating: