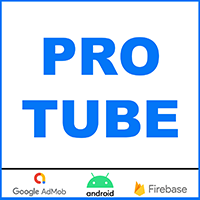 ProTube Android - Floating Player For YouTube
ProTube gives you access to all of YouTube videos and play on Floating Popup player, always appears on the top of other apps.





Average rating of

5

based on

3

votes
Overview
ProTube gives you access to all of YouTube videos and lets you play in a floating popup player for multitasking experience. It always appears on the top of other apps.
Note: We're developing the Backup & Download video functions, will update the new source in next month. Hope you guys will like it! Thank you!
Demo:
New Updates: Download video for Offline includes Mp4 & Mp3
Screenshots:


Changelog:
Mar 09, 2020 - Version 1.0.1
Added Captions
Added Playback speed
May 05, 2020 - Version 1.0.2
Several changes in UI
Added "Subscribe channel" feature to Video Player Detail page
Bug fixes and performance improvements
Jun 05, 2020 - Version 1.0.3
Bug fixes JSON extractor and performance improvements
Aug 09, 2020 - Version 1.1.0
Added download video & mp3
Support & Assistance
Faced a problem? Need assistance with the product? No worries – our customer support team is always ready to help you.
Support requests are being processed on business days from 9:00 to 18:00 (GMT +7) [generally] within 24h to 48h in the order they were received.We suggest, while our team reviews your support request, please read the documentation that comes in the zip file of Codester.We are in GMT+7 timezone. We address all the support queries 7 days weekly.If any support ticket has no response from the item owner for 7 days, the ticket will be considered closed. If you need further assistance you can create another ticket or drop us an email asking to re-open the ticket for you.Have pre-sales questions or concerns, please write to us via our email: quoctrungdhqn@gmail.com
Refund Policy
We don't offer a refund. (If the item is downloaded)Please read the description and compatibility content thoroughly before purchasing as we don't offer a refund if you buy it by mistake.
Greetings from CreativeStudioVN Team
We are actively looking forward to your feedback in order to make our product more efficient for you. Thanks again!
Features
Watch all YouTube videos without Ads
Discover newest and hot videos by genres you love
Play video or Playlist on Floating Popup player
Download video & music in Mp4 & Mp3
Easy to resize the Popup player bigger or smaller by long press three seconds on it, then resize.
Subscribe channel you love without login account
Tracking history: recently played, most played & search keywords
Search everything on YouTube: video, playlist and channel
Create local playlists for watching later
Turn on/off captions
Support to change video quality, playback speed
Requirements
Android Studio version 4.0 or higher
Gradle version 4.0 or higher
Reviews
1 week ago

Rating:

Thank you. Very good.

5 months ago

Rating:

It's a great app. No bugs/crashes of any sort. App works seamlessly and efficently. The seller is very responsive and professional. Highly recommended.

5 months ago

Rating:

The developer kindly answers your inquiries.
The app you sell is very good.
There are no bugs and it is the best floating app.
Other apps from this developer are also great.
Highly recommended!