Radio Mini - Full iOS Application
Radio Mini - Full iOS Application
The best and modern way to enjoy the music!
Radio Mini - Full iOS Application
The best and modern way to enjoy the music!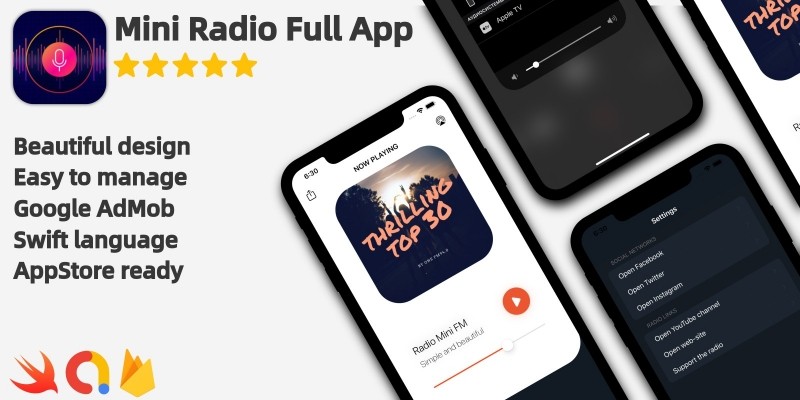 Overview
Radio Mini is an iOS application to play the Online Internet Radio station broadcast!
This application allows you to create, listen and enjoy your own or favourite Internet Radio streaming. With this full made iOS application you may reach a huge audience and share your own radio broadcast with incredible ease!

This application has everything you need to start your business in the mobile application field!
Radio Mini offers you an unique music user friendly experience:
Simple, modern and intuitive user interface 
Listen and enjoy your favourite radio stream 
Share the radio station via any social network
Populate the app with your social networks
Enjoy and control your music in the background mode to save your battery life  
Cast radio streams to your TV via AirPlay with one click
Back-end setup within 5 minutes!
Features
Google AdMob interstitial
Fully step by step illustrated documentation 
100% Ready to style and publish on AppStore
Extremely easy to re-skin
Beautiful and professional looking design
High Quality image assets
Pre-installed database structure for the online radio station
Native libraries to load url audio inside the application
Manage content and radio station with ease within Google Firebase
User Notifications (push notification can be added on request)
Google Firebase application analytics 
Nice and minimal iOS native design 
In-app social networks page
List of cool resources to use
Requirements
MacOS
iOS Device or Simulator
Latest Xcode with Swift
Instructions
SHORT INSTRUCTIONS:
Change the Bundle Identifier and Team Section
!!! IMPORTANT !!! Re-skin the app before the AppStore submission 
Carefully read documentation 
You are ready to go:)