Cleaner Android App Source Code
Cleaner Android App Source Code
Powerful Phone and File Cleaner & Speed RAM Cleaner with Booster With Admob and Facebook Integration
Cleaner Android App Source Code
Powerful Phone and File Cleaner & Speed RAM Cleaner with Booster With Admob and Facebook In...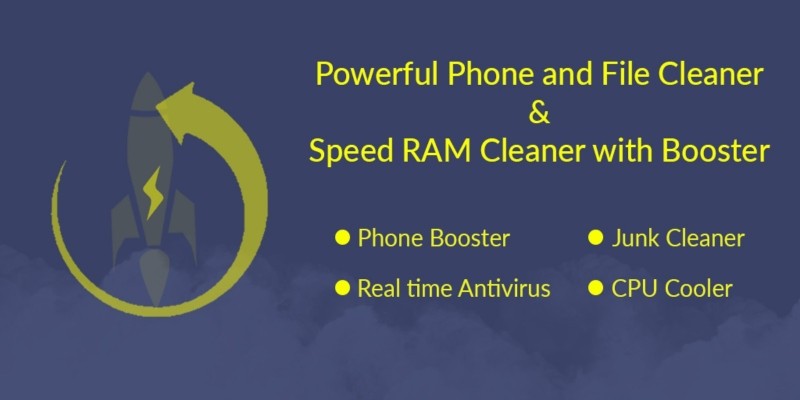 Overview
Is your phone running slow? How to make your phone faster? Get a power cleaner for android & deep clean your mobile with phone booster app.
 
Download this "Powerful phone & File cleaner & speed RAM Cleaner with booster" now & Speed up android phone performance using speed booster app. Experience the best phone cleaner (Ram booster app) that will help you speed up your mobile by clear all apps cached data. It is a powerful space cleaner (ram cleaner app) to speed up your android device. Get now the best android cleaner so far.
 
Why my phone so slow? Do you know the reasons behind slow phone speed? There are some unnecessary task running in background. Simple & quick way, restart your device sometimes never fix that issue. You need a speed booster app. Get the ram cleaner app & give the instant boost to your mobile ram. Clear cache android with clean sweep phone cleaner app is one of the best cleaning app for android. Free up space on android with deep clean & get the process smoothly run again.

Power clean app for android all clean cookies / clear cache. Speed up android device in one tap with app cache cleaner. Save your android mobile battery by using cleaner of "Powerful phone & File cleaner & speed RAM Cleaner with booster". You will find this ram cleaner app & boost master is the best cleaner for android phone. It's a ram booster for android (Deep Clean: Speed Boosting & Phone Cleaner App).
 
This speed booster app and cleaner is a fast cleaner & memory optimizer helps to increase ram speed. This max phone booster & cleaner will gives the super boost up to your android device with deep cleaner app. System cleaner app will remove junks & other clean all miscellaneous files. This power clean: master app is the fast cleaner so far.
 
Download speed cleaning app & clean your phone ram, system memory. Phone cleaner app is a full featured phone cleaner app including (app cache cleaner, device cleaner, ram booster for android). Clean up android with this ram cleaner app is now easy with clean apps for android.
 
Get ram booster app by Instant download " Powerful phone & File cleaner & speed RAM Cleaner with booster" a power clean app & get rid with your slow phone issues. Try out this super memory booster app for Deep Clean, Speed Boosting & Phone Cleaner App.

Demo Link : - https://drive.google.com/file/...
Features
Junk Cleaner 
Junk cleaner can detect and clean cache junks, ads files, obsolete trash, memory cache and other junk file to reclaim storage.
 
Phone Booster 
One-tap to makes phone running faster with better user experience.

By clean unnecessary apps running in background to frees up memory (RAM).
CPU Cooler
Stop the apps which make your phone overheating to cool down your mobile.
 
Battery Saver
Turn off background-running apps, avoid battery-draining and extend battery?s usage time.
 
Notification cleaner
clean unnecessary and annoying notifications on your notification bar, stop your phone from slowdown caused by disturbing and trash notifications.
 
App Manager 
Clean and uninstall unnecessary apps and APK files to free up more phone storage.
 
Anti-Virus Detect 
and delete the virus and malware to keep your phone safe.
Requirements
1. Android Studio
2. Java(Development language)
3. support Android Phones & tablets
4. Admob Ads Ids
5. Account Google Play Console
Instructions
1. Unzip package.
2. Open Android Project in to android stdio.
3. Run application on your device.
4. More information are Available In Documentation.