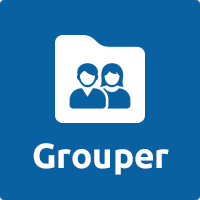 Grouper - Extended Customers Groups
We have breathed new life into the Customers Groups.​​
Overview
Grouper is the first module that gives you a full control to manage your customers.
Benefits for Merchants
Grouper helps you manage the Customers Groups to meet your business
requirements. Improve the shopping experience of your customers by
assigning them better prices, allowing them access to specific
categories or products, and much more.
Benefits for customers
Customers like personalized services, pay them more attention, offer
better prices and make awesome offers, show specific products and they
will pay you back very quickly.

Features
Grouper module allows you to merge your customers in groups based on their attributes, like: age, gender, location, language, registration options, shopping and shipping experience and other key features.
Once created target customers groups specific for your business, you can: assign them a different pricing policies, like: Cart Rules and Catalog Price Rules, assign a specific product price, manage a Category Group Access (show specific categories or products to a limited group of customers) and all other things you usually do with your customers!
How it works:
Create target group
Build group
Assign price policies
Enjoy!