Candy Crush Match 3 Game Gui Assets
Candy Crush Match 3 Game Gui Assets / includes: graphics, buttons, objects, mobile game buttons, share options, menus, backgrounds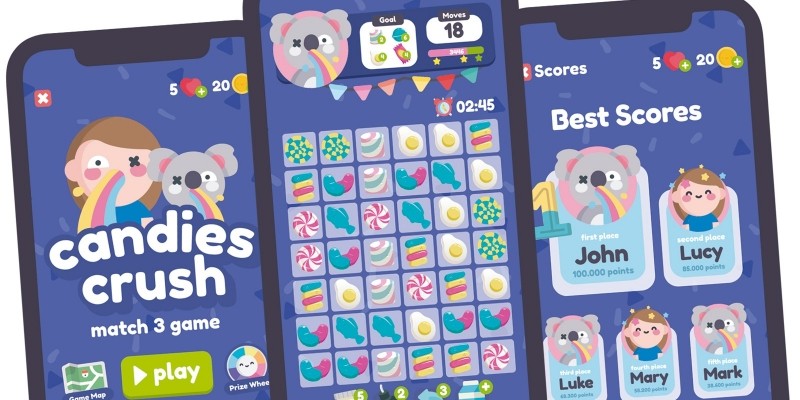 Overview
Candy Crush Match 3 Game Gui Assets / includes: graphics, buttons, objects, mobile game buttons, share options, menus, backgrounds, Screen samples, and much more elements
Full EPS vector, so you can scale it at any size, without losing it's quality. FULLY CUSTOMIZABLE (colors, sizes, basicly everything is editable..)
All graphics on PNG ready to put on your game! but dont worry they are included as vectors in case you need to edit them :0
18 SCREENS INCLUDED:
01- Game main screen 02- Map screen 03- Wheel of fortune 04- Wheel Prizes 05- Wheel Prizes option 2 06- Game Goal screen 07- Game screen 1 08- Game screen 2 09- Game screen 3 10- Game completed screen 11- Game Failed screen 12- Out of moves screen 13- Profile screen 14- Scores screen 15- Shop screen 16- Lives shop screen 17- Daily reward screen 18- Free lives screen
includes: Adobe Illustrator AI + EPS files + PNG images.
Features
18 SCREENS INCLUDED:01- Game main screen 02- Map screen 03- Wheel of fortune 04- Wheel Prizes 05- Wheel Prizes option 2 06- Game Goal screen 07- Game screen 1 08- Game screen 2 09- Game screen 3 10- Game completed screen 11- Game Failed screen 12- Out of moves screen 13- Profile screen 14- Scores screen 15- Shop screen 16- Lives shop screen 17- Daily reward screen 18- Free lives screen