Flutter Story App with Admin Panel
Flutter Story App with Admin Panel
Complete Flutter Multipurpose app with Laravel. This app is created by Flutter and Laravel. you can create your own app
Flutter Story App with Admin Panel
Complete Flutter Multipurpose app with Laravel. This app is created by Flutter and Laravel. you ...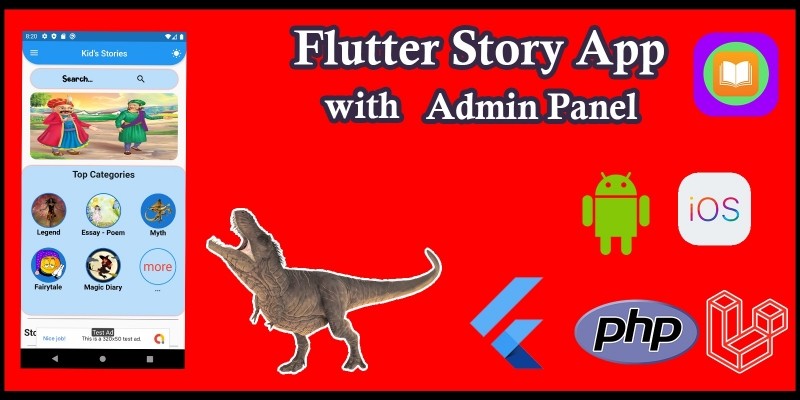 Overview
Flutter Story App with Admin Panel
Story App is a multi-purpose app from which you can make multiple types of Apps like Stories/Motivational/News App to provide ease to your audience. Story Flutter app, Which allows you to publish your content online to deliver your audience/Student in real-time on their mobile phones. With the help of this App and Laravel Admin panel, you can easily post your content online. Here You will find the option for creating unlimited categories and Stories.


Admin Email: [email protected]
Password: 123456789

The data is coming from Laravel Server
You will get Laravel Admin Panel without any extra cost. for any help, you have to mail us on [email protected] we will provide help just after receiving mail.
Reskin/Installation Service
Features
Features:* Complete Admin Panel
You must have a domain with hosting to host the Laravel CMS. You can purchase hosting and domain from anywhere of the multiple platforms.
BlueHost
Hostinger
HostGator
BigRock
Hostwinds
Or You can purchase from anywhere.
Instructions
Features
Features:
* Complete Admin Panel
* Push Notification
* In-App Notification
* Flutter Dark and Light Mode
* Create unlimited Categories and Posts
* User Login
* Registration
* Post Comments
* Laravel 8
* SB Admin Bootstrap Template
Instructions
Step By Step instruction provided in the documentation.