Smart Account SSxPro ERP And Billing Source Code
Smart Account SSxPro ERP And Billing Source Code
Smart Account SSxPro ERP and Billing System Full source code .NET C# and SQL Server 2017 database
Smart Account SSxPro ERP And Billing Source Code
Smart Account SSxPro ERP and Billing System Full source code .NET C# and SQL Server 2017 database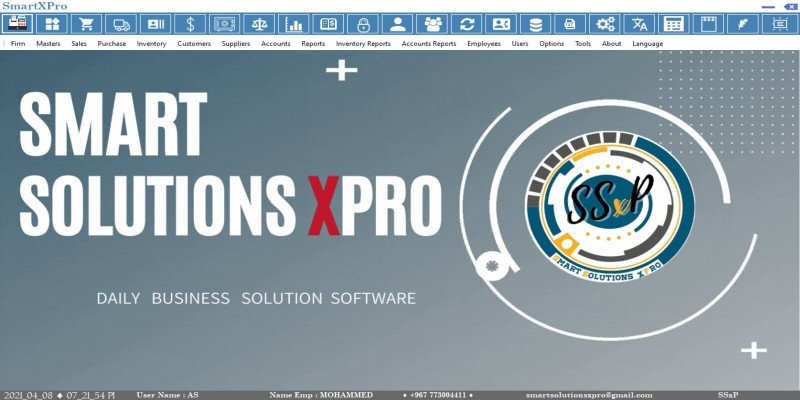 Overview
ur Smart Account SSxPro ERP System contains a comprehensive set of tools required to manage and organize accounts. Furthermore, sales, purchases, bills, stores, and employees, etc. C# based and SQL Server database Smart Account XPro tools allow you to track your customers and recruits, as it provides an organized and report day-to-day sales, revenue, and profit. It is a simple and user-friendly interface which is one of the key aspects of our software.
System Modules:
- Company / Business Profile Information (bank detail, personal info, contact info, etc.)
- Manufacturing
- Full Accounting
- Accounts Management 
- Accounts Tree 
- Invoice Management
- Product Management
- Invoice Business Management Send from to To
- Create Live Invoice and Print and send by email
- Inventory Management
- Stock Management
- Damage Entry
- Journal Entry
- GST, Tax and VAT Cess enabled Invoices
- Payroll Management
- Attendance System
- Barcode 
- Customers/ Suppliers Report and All modules Reports.
- Multi-users 
- Role and Menu Management (Role and User-based)
- User Tree and Tree legs
- Mail sending facilities from the application
- Various type of Reports including profit and loss account and Balance Sheet.
- Activation 
- Mail Sending Facilities
- Lock Application
- Database Backup
And Included lots of other Modules in this System.
 
* Note: The possibility of adding the Arabic language
Online Video Demo:

Behind Technology: 
- Visual Studio 2019 & SQL Server.
Contact Us For Inquiry :
- Email: [email protected]
Features
- Billing System 
- Menu and Menu Permissions (User and Role-Based)
- With Full Source Code ( ERP System )
- Modern Design
- GST 
- Tax 
- Vat enabled System 
- Inventories
- Offline System 
- Barcode 
- Crystal Reports 
- .NET C# 2019
- Datatable SQL Server 2019
Requirements
- visual studio 2015 OR above
- .Net framework 4.0 OR above
- SQL Server 2015 OR above
- Crystal Reports Runtime 
Instructions
1. Extract project downloaded the zip file 
2. Open the Cs solution named "MyConverter.sln" preferably with Visual Studio 2012 or above. 
3. Rebuild project.
4. Change your connection string from the web. config.
5. your project ready to use now.
* Note: You can even open it with any other C# editor or text editor, but with text editors, you will need to execute the code on the command line.