Bitcoin For PrestaShop
Provides a payment method suitable to your customers
×
This item is temporarily not available for sale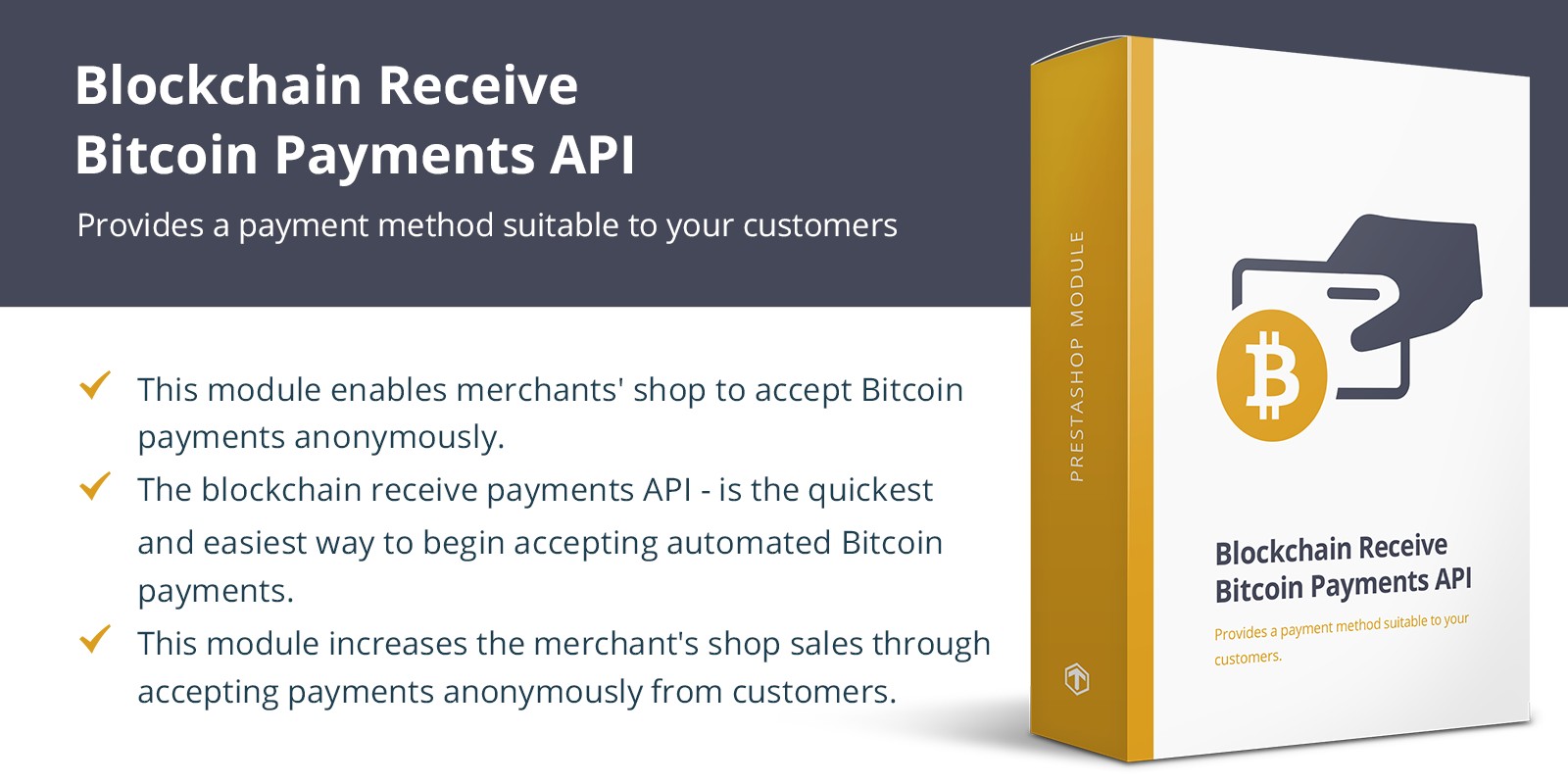 Overview
Provides a payment method suitable to your customers
Description
This module allows you to accept Bitcoin payments from your customers using blockchain.info's Receive Payments API V2.
The benefits for Merchants
This module enables merchants' shop to accept Bitcoin payments anonymously. The blockchain receive payments API is the quickest and easiest way to begin accepting automated Bitcoin payments. This module increments the merchants' shop value due to accepting payments anonymously from customers.
Features
This module manage the price conversion using Blockchain.info's Exchange Rates API. The price of the products must be in one of these currencies (USD,ISK,HKD,TWD,CHF,EUR,DKK,CLP,CAD,CNY,THB,AUD,SGD,KRW,JPY,PLN,GBP,SEK,NZD,BRL,RUB). The payments will be received directly in your wallet.
Benefits for customers
The purchases performed using Bitcoin are treated anonymously. Moreover, it provides secured and fast payments.
Installation
Regular installation. You need to configure the module by adding the merchant Extended Public Key where the payments will be received.
Recommendations
The private key for the merchant's Bitcoin address can be kept offline for increased security.
Other
TThis module requires the cURL PHP extension. Bitcoin Payment Method is only available when at least one of these currencies is activated: USD, ISK, HKD, TWD, CHF, EUR, DKK, CLP, CAD, CNY, THB, AUD, SGD, KRW, JPY, PLN, GBP, SEK, NZD, BRL, RUB .
Information
Category
Plugins / Prestashop
First release
15 December 2016
Last update
11 February 2017
Supported CMS
PrestaShop 1.6, PrestaShop 1.7
Files included
.php, .html
Tags

bitcoin

,

API

,

btc

,

cryptocurrency

,

billpay

,

bitpay

,

blockchain

,

coinbase

,

coincorner

,

CoinDesk

,

coinify

,

cryptopay

,

epay

,

litecoin

,

onebit