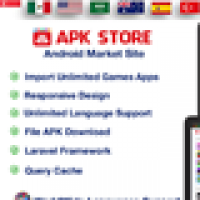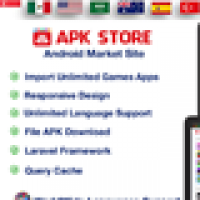 Apk Download Google Play Store - Laravel Admin
Apk Download Google Play Store - Laravel Admin
Apk Download Google Play Store is an platform to create an apk download website with a few clicks





Average rating of

5.0

based on

1

votes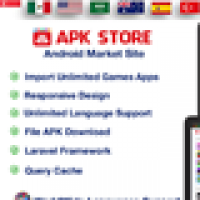 Apk Download Google Play Store - Laravel Admin
Apk Download Google Play Store is an platform to create an apk download website with a few clicks





Average rating of

5.0
Overview
APKStore - Android Market Site PHP is an platform to create an apk download website with a few clicks. Import and display any apps games by country and language. Support multiple language in site. Display url slug by language. You can manager games, appps, add ads admin Dashboard add edit games, apps, language, ads...
Demo credentials
https://iapk.site/admin
Username: [email protected]
Password: demo2021
Demo site
https://iapk.site
Note the apk file download is a free service of mine, no charge in this version. It works by taking the service on my address to download. If you don't want to use it, you can upload it directly to the apk file through the admin panel
Features
Import Unlimited Games Apps
Display Toppics by Country
Frontend 10 languages You can add more easily
Responsive design
Easily search & display any apps
Clean code
Apps star ratings
Unlimited apps, games, categories and pages
Download APK file
Url slug language
Pagespeed high
Google Structured Data
Admin Dashboard add edit games, apps, language, ads...
Changelog
2.1 Release version - June 11, 2021
Add default language, remove slug in url
Add comment to detail page
Add custom title and description page in language
1.1 Release Version - April 26, 2021
Fix: Detailed App No Rating
Added: Download apk 
Add generation sitemap
1.0 Initial Release - April 23, 2021
Initial Release
Requirements
PHP >= 7.2.5
BCMath PHP Extension
Ctype PHP Extension
Fileinfo PHP extension
JSON PHP Extension
Mbstring PHP Extension
OpenSSL PHP Extension
PDO PHP Extension
Tokenizer PHP Extension
XML PHP Extension