OfferFM - Affiliate and CPA Network Script
OfferFM - Affiliate and CPA Network Script
Run your own CPA Network like Clickdealer, CPALeads, CPABuild (Original Version)
OfferFM - Affiliate and CPA Network Script
Run your own CPA Network like Clickdealer, CPALeads, CPABuild (Original Version)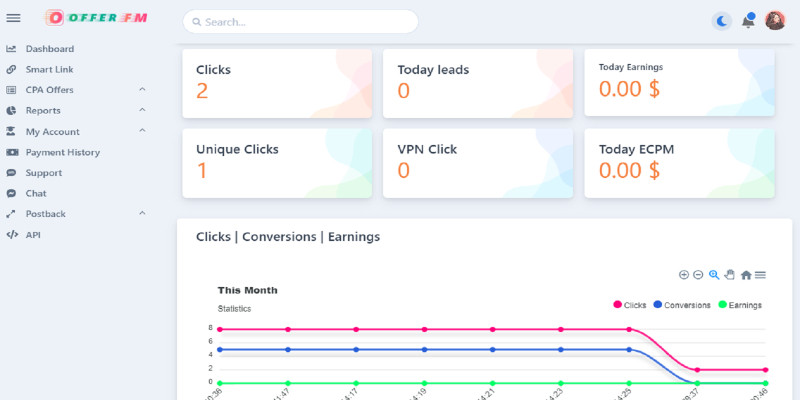 Overview
#1 CPA Network and Smartlink Network Script
Start your Own Affiliate/ CPA Network and Smartlink Network with us.
Are you planning to start your own Affiliate or CPA Network or Smartlink Network? Let me introduce OfferFM. OfferFM is a Performance Marketing Software Company.
What you Can do?
From Admin Panel, You can Add Offers from other networks to your Networks.
You can log in to Manager and Publisher Panel from your Admin panel without a Password.
You can set dynamic Postback Parameters.
Do not need to Approve Leads Manually, It's Fully Automated.
Cash-out invoices will be generated automatically.
Publisher Can see Advance Reports. By Clicks, Leads, Date, Device, Browsers, SID, Countries, and more.
You can run CPC, CPL, CPI, CPS, and other Follows Offers.
So, Why you are waiting for?
Our Script is End to End Encrypted. So it's secured and Well Protected. You can host the script on your own Server.
Demo Login Information:
https://demo.offerfm.com/admin
User: [email protected]
Password: 1234567890
We are very friendly with our clients. We always provide free support for our client. Let's start the journey together.
Note That: Some Guys are Reselling our old script on Codester by Modifying it. Be aware of them. We will not give you any support if you purchase from them.
For Any Queries
 Please Visit:  offerfm.com 
or 
Send us a Mail at  [email protected]
Features
Here are our core Features:
Admin Panel
Manager Panel
Publisher Panel
Advertiser Panel (Coming Soon)
CPA Offers
SmartLinks
NativeAds. PopAds, Offerwall, Content Lockers (Coming Soon)
Advance Reporting
Support Ticket
InHouse Chat System
VPN/Fraud Detection
Automatic Postback
Automatic Invoice Generate
Graph and Charts
Requirements
Requirements:
PHP 8.1
Apache Server
IonCube Extension
MySQL 8.0 or MariaDB 10.6
proxycheck io API key
Instructions
What will be included ?
Step by Step Documentations
24/7 Support (Standard Support)
Lifetime Free Updates