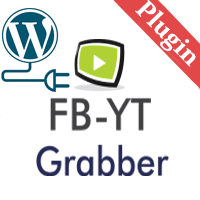 Facebook Youtube Video Downloader - WP Plugin
Facebook Youtube Video Downloader Plugin for Wordpress allows you to download Facebook and Youtube videos.





Average rating of

4

based on

5

votes
Overview
We've just released WordPress plugin of our popular script Facebook & YouTube video Downloader. The plugin allows you to add Downloader to any page/post by adding a simple ShortCode. The Downloader can be customized completely. If you have knowledge of HTML & CSS, you can customize it to make your own.
Features
Version 3.1 - 18/01/2020

- YouTube Download ENGINE Updated
- Extended Video Qualities for Youtube videos
- Improved error handling.


Version 3.0 - 19/09/2019

- Updated Youtube Download engine
- Updated design to complete new Metarial Design
- Updated to Bootstrap 4
- Added file types for Facebook & Youtube videos
- Added duration for Youtube videos


Version 2.2 - 23/05/2019

-Updated YouTube Download engine


Version 2.1 - 01/12/2018

-Updated YouTube Download engine
-Improved error handling


Version 2.0 - 03/11/2018

-Updated YouTube Download engine
-Removed Mp3 feature
-Improved error handling


Version 1.0 - 29/12/2017

-Initial release


Responsive Design
Supports Cipher Videos
Download SD & HD quality video in MP4 from Facebook.
Download multiple quality such as 144p, 240p, 360p, 480p, etc from Youtube.
Feature to play video before downloading.
Settings page for Downloader
Completely Customizable
Shortcode Support
Requirements
1. PHP 5.3+
2. WordPress 4.6+
3. Allow_url_fopen Should be ON
4. cURL should be installed
5. HTML Video Tag support
Instructions
Detailed Documentation is available in zip file