Facebook Share Quiz Script
Facebook Share/Comment to show Facts about anything which you inserted in your settings.





Average rating of

5

based on

1

votes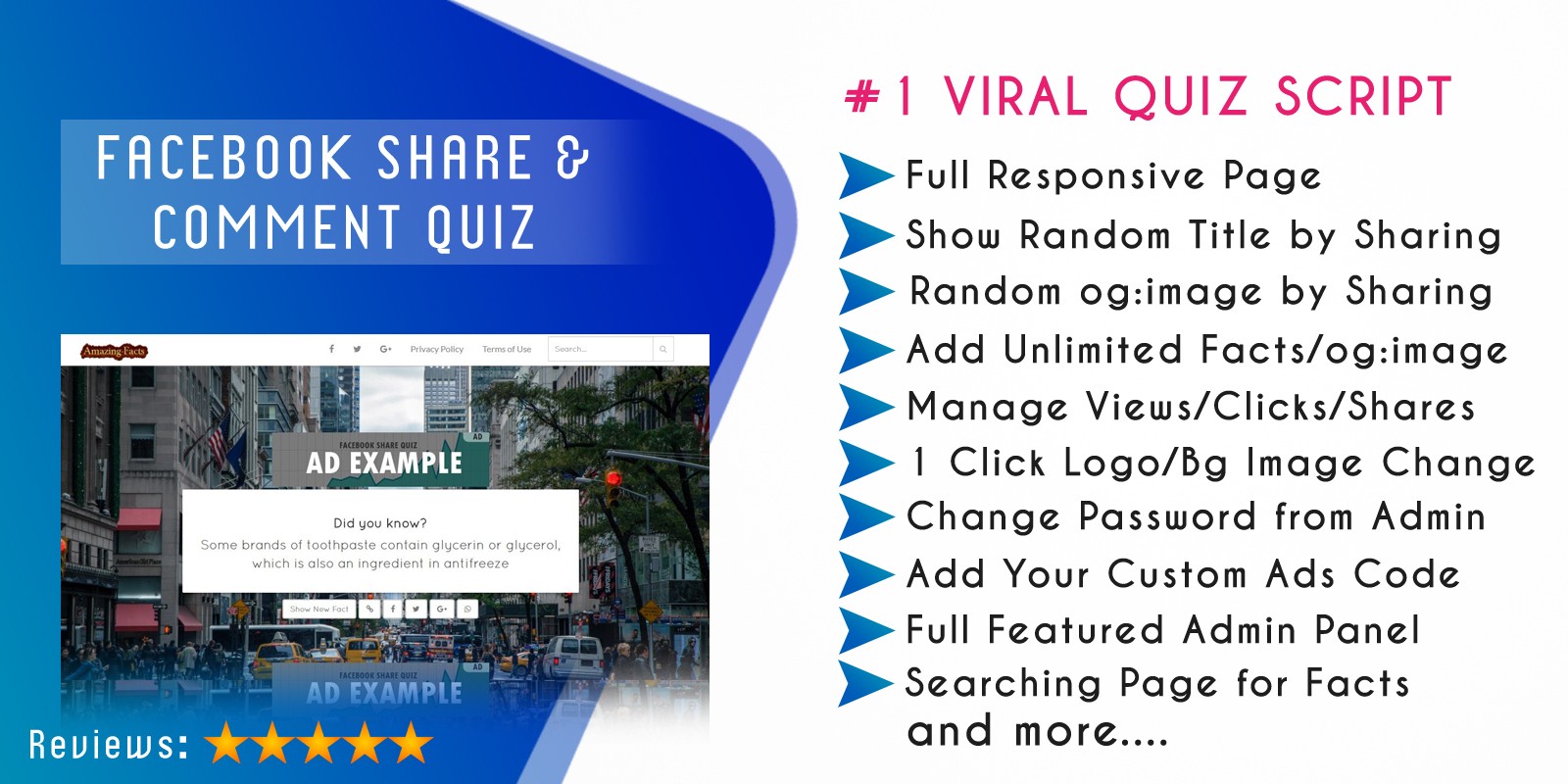 Overview
Description
Simple Facebook Quiz Game for Entertainment like, Which Your Car?, What is your girlfriend, Who is your future wife. This are show with Title and Image When user can share or comment name like your-host.com/name to your facts about user. like this:-
PHP VERSION UPGRADED
---
Random OG:TITLE & OG:IMAGE
---
WEEKEND TRAFFIC ANALYZE
---
COUNTRY TRAFFIC ANALYZE
---
Features
Free Included 3000+ Facts
Easily Manage
Responsive and Beautiful Page
Policy and Terms Included Pages.
Manage Weekend Views With Areal Chart
Manage Today, Yesterday, Monthly Traffic Easily
Powerful Admin Panel
Manage Click, Share, View
Add/Delete Unlimited Facts
Add Custom Ads Code
Add Random Title and Images
Add Random OG TITLE & OG IMAGE
Show Random Title/Image When Sharing
Add Custom Random Title/Image From Panel
Search Facts for Visitors
Direct Share Button for Facebook, Twitter, WhatsApp etc
Manage County Visitors
Logo and BG Image Change Easily
Edit Password from Admin Panel
Add new Admin in One Click
Requirements
PHP 5.X and Higher
PHP 7.X
Instructions
Try Demo:- http://www.amazing-facts.cf
Admin Demo:-  http://www.amazing-facts.cf/admin
username:- test
password:- test
Change Log

Version 1 Published on 28 March 2018
====================================================
Version 2 Updated on 2 April 2018
------------------------------------
Add Background Image from Admin Panel
Add Facebook App Id From Admin Panel
Manage Visitors, Shares, Clicks, County Viewers
Chart Analyzer for Visitos and Shares
====================================================
Version 3 Updated on 20 April 2018
-------------------------------------
Upgraded PHP5 to PHP7 (Working on every version)
Add more then 5 facts

====================================================
Version 4 (Current) Updated on 25 April 2018
-------------------------------------
Add Unlimited Facts
Add Unlimited Random Images
Facts Search
Others Bugs Fixed




Reviews
2 months ago

Rating:

ah what the alright... Fantastic job my man !!!!!! cant wait till the next update !! Keep up the great work bro Buy This!!