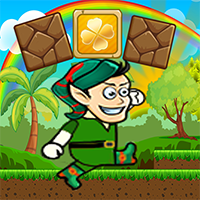 Leprechaun Island - Full Buildbox Game Template
Run, jump, shoot, ride and swim your way across 3 worlds to get them back.
Overview
Run, jump, shoot, ride and swim your way across 5 worlds to get them back. Each world features its own unique tileset showing off a different location. Massive enemy fights will keep the challenge high, while hidden secrets will keep you coming back to explore!
• YOUR PURCHASE INCLUDES:
- Our BuildBox Template Document (BBDOC)
- Android Code
-Video Tutorial
• BUILT FROM THE GROUND UP IN BUILDBOX
This Buildbox document is a fully-made game, ready to be reskinned and shipped. It was built from scratch (you won't find this as a preset inside of Buildbox!) quality assurance.
Tested and working in BuildBox 2.0 – 2.9. Also included is the Android source code for your convenience.
All our products are original, hand crafted games you won't find anywhere else apart from PRODAPPS. You will stand out from the crowd rather than blending in with every old reskin or clone. It pays to be original when making games! 
Finally we pour our heart and soul into our products and fully guarantee them, if you need help or any further information get in touch – THANK YOU! 

Leprechaun Island 

Features
Original Game NOT a Template or Reskin
Universal game (Phone / Tablet)
AdMob Banner
5 Unique Worlds
Social Sharing
Rate
Sound on / off
Requirements
Compatible with Buildbox versions 2.0 - 2.9
Instructions
Incredibly detailed step-by-step included with your purchase!
Unzip the folders
Replace all assets with new artwork (make sure the sizes remain the same)
Drag new assets into Buildbox