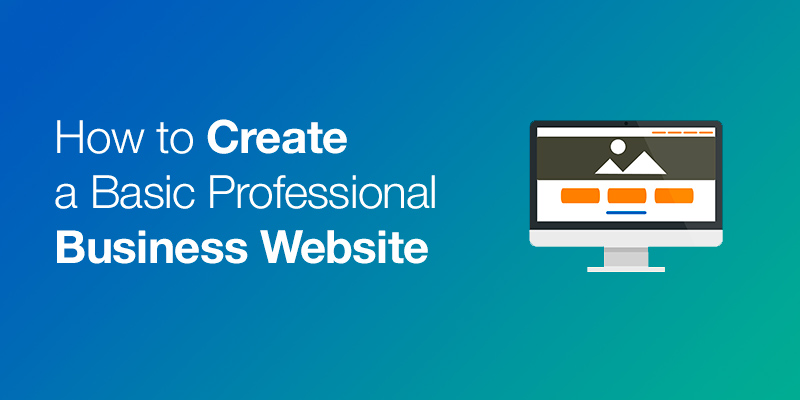 Everything today seems to happen through online sources such as websites or profiles that promote one's business and company. This is why it is important for businesses to learn how to create their online profiles to gain customers. One of the most popular websites to create a basic professional looking business website is through WordPress.com, which happens to be the easiest method for first-time website creators. We created a list of steps to help you make a basic professional looking business website
1. Get Hosting
Hosting is one of the biggest things to accomplish before truly beginning your website on WordPress as hosting allows for individuals to create their sites to be accessible to those all over the world through the Internet. A good way to think of hosting is like paying your rent for your home or apartment as you have to pay for the website to have the space on the Internet for your business. Nothing in the world is free, and websites are no different. There are a few free web hosting services, but they come with a limited package for the websites created, so it would benefit the business more to spend some money for a full-packaged website host. Without having a reliable, professional host for your business's website, the website might not become as popular and promoted as you would like and therefore could fail before it even can begin.
2. Download and Install WordPress.
Downloading WordPress is quite easy as you can find downloading instructions everywhere online for how to download and install this fascinating and helpful website to start your business site. Because WordPress is ranked as one of the highest trustworthy website creators, it will not put a virus or start problems with the hard drives and downloading sector for one's laptop or computer. WordPress also provides some instructions for beginners of the website on how to link things to their websites created and how to set up and add posts to the website they create.
3. Select A Good Theme.
The theme of your business's website could be the entire reason a person could be clicking onto your site to get information about your company, so make it perfect! WordPress provides many different themes with certain designs, colors, spectrums, and organizational aspects for every different user with their different website needs and preferences, which is why it is best to buy premium WordPress themes and pick the right one for your business. If your business is more oriented towards working directly with customers and their needs, then it would be beneficial to include some photographs of employees and customers working together in your website to promote what your business stands for and to let other possible customers in on how things run in the company.
4. Insert Photographs
As stated in previous paragraphs, adding in some interesting photographs of customers and people involved in your business can help add personality and professionalism to your business's website. Photographs of customers that your business has previously dealt with or handled and photographs of your company's building or progression over the span of its existence will help viewers of the website become more intrigued and interested in browsing your website's pages and information available. Photographs tend to get customers and website viewers to be more interested in the content of any website because reading solely paragraphs filled with words upon words can become boring to a regular person. Businesses usually add in photographs that go along with what their company is about or that coincide with what their post on the website is about for that moment.
5. Add Your Own Logo.
On your website, it would be beneficial for you to include a logo that your business and company use often and have the rights to. Including this logo on your site will allow for those who frequent and visit your WordPress website to remember that logo and give it a connection to your business. Assure that the logo that your business uses is not stolen from another website and has no affiliation with your owned company. The logo should be presented on each page of your website on WordPress as it will continuously let the visitor of each page know your company's logo and it will stay in their heads. If a customer knows about your logo, they will automatically think of your business when they see the logo or something similar.
6. Figure Out Your Slogan.
Having a popular and catchy slogan for your business or company will help out your website as well. Having the slogan posted prominently on the title page of your company's website will let customers remember the slogan. Similarly to the logo of a company, customers can consistently remember the slogan so they connect your business with the catchy slogan. This can possibly get you more business if people remember and like your catchy slogan. Creativity is one of the most important things to keep up with when creating posts, slogans, and logos, so practicing before uploading a perfect slogan on your WordPress website for your business will assure that the final slogan product created will be good enough to bring in customers to your business or company.
7. Provide Tags To Make It Easier To Navigate.
Organizing the pages that you include on your business's website is key in keeping those who decide to click into your website and view each page happy and not frustrated.
A website can easily become confusing and annoying to travel through with random people clicking into the site, which is why it is important for the website creator to add in some easy to locate tabs that help navigate the viewer through the business's pages, so they can view what they came to the website for.
If you decide to have a page for only information about your business, a page for only locations of your business, a page for only customer reviews about your business, then you will need to organize these several different page topics so that possible customers and people who will view your WordPress website will be able to happily get to each section they are interested in without becoming angry and exhausted through confusing and messy layouts.
8. Provide Contact Information On A Sidebar.
Don't forget to include one of the most important things about your business: the contact information that people who visit your newly created website can use to be a part of your business. WordPress provides the option for its users to insert a nice sidebar on the side of the web page and users can use this to include contact information such as phone numbers to get into contact with a representative of your company, an email to contact your company with any questions or follow ups, and a possible address if your business has a specific location somewhere so people can know where to go after visiting the website you made and learning about your company and what you do.
9. Write Your First Post About Your Business.
The first post you include on your business's website should be something that gives a pretty brief summary on your business and what it does, it's expectations, it's goals, and how they plan to continue to achieve these goals. Keep the summary brief so that it does not bore possible customers and those visiting your business's page as you want to keep the interest of the person consistently so they can eventually become your trusting customer. Write something that is interesting, provides valuable and informative content about your business or company, and keep the summary easy and concise for your readers. The summary should lure the visitor and reader into your company's website through concise and understanding words and phrases so the customer will gain a clear explanation of what the company does and is about.
10. Include Some Responses From Previous Customers.
Customer reviews about various products, websites, businesses, stores, and much more are a large fragment of the Internet post population as people rely on what other normal people think of places and services before going out to test it themselves.
This is why in many business's websites you will find a tab labeled "customer reviews" or "thoughts from our customers" so that other possible customers who visit the site and are thinking about being a part of your business can read what your previous customer's experiences were like and their opinions on how the company ran and dealt with them. Including a tab that is specifically dedicated to posting what your customer's experiences have been like with your company will certainly heighten the chances of your business's website becoming more popular and gaining more customers from it.
There is even an option for WordPress for the website creator to add in a comment section where regular people themselves can add in their own thoughts and opinions about your company right there on the spot without having to make an account or go through any frustrating commenting process.
Having honest comments about your business from other customers will allow for more people to be more likely to be your customer based on the opinions of those who have used your company previously.
11. Make Continual Posts About Your Business.
Only creating a single post on your business's website will not be enough to draw in more customers and more business for your company. If there is only one post about your company's abilities and a summary of what your company is, not many people will decide to continue to view the website.
It is important and helpful to make weekly posts about various things in your business such as a new product, a new experience, something that coincides with your business that is changing in the news and the like.
For example, if your business caters to pet food and there is a big news story about certain pet foods being unsafe or dangerous for a person's pet, it could be a smart idea for you to make a post about this news story for your business's website to show that you care and you know about what is going on in the pet food industry since that is what your company is all about.
This gains not only trust from possible customers and viewers of your business's page, but it also allows for more posts for people who are viewing your business's website for the first time to read through and gain more insight on your company as a whole.
12. Make A Group Strictly For Social Media.
Because your business's website will grow larger and expand after becoming more popular, the business you are in should set aside a group of employees who are solely in charge of running the social media that your company has such as this website on WordPress, a Twitter account, and a Facebook account.
One person alone cannot run all of these things by themselves, but if they are put in a team or a group for your company, they will be able to dish out more information about your business and company to the public and the Internet through these social mediums and your website.
Having a handful of people who has the specific job of dealing with your business's social media and website will allow for other employees to deal with the other aspects of running a business such as customer service, product distribution, telephone calls, and whatever other aspects your company provides and uses their reliable employees for.
13. Promote Your New Business Website.
Promoting your new business website will allow for more people to view the company's page and then prompting for possible new customers to also view the page. There are numerous different ways for anyone to promote their website whether it is for a business or a company or if it's just a website where they post blog posts.
Some of the most popular ways to promote their website is through other forms of social mediums. Like stated previously, having a group of the company's employees controlling social media sites and accounts such as Twitter or Facebook company accounts can help for the business to promote themselves globally through the online atmosphere.
Promote your website professionally as well. Do not promote the website as if you are just a random person trying to get people to read their blog posts, but promote the company website in a way that people will understand this is an actual business with professional goals and employees.
WordPress even has a way to connect these Twitter and Facebook company accounts to your WordPress business website in order for those viewing your website to be able to view your other social mediums. This social media form of promoting the business's website is proven to be most beneficial as many users have accounts on these platforms and therefore it would be possible for them to view your website from such means.
There are also ad-promoting devices on both Twitter and Facebook that are specifically made for companies to promote themselves and link their websites. These ways of promotion through the social media platforms themselves do cost some money, but they raise your company's account and posts to the top of a person's webpage so it is likelier for your business's website to hit more of the population than if the company link was at the bottom unseen.
14. Keep Your Website Professional.
Professionalism is the last key in having your company create a successful website for the business as many people will be untrustworthy and therefore ignore websites by businesses that seem to lack professionalism of any sort.
Through this, it means that in order to make some good customers from the viewing of your company's website, those running the business's website should remember to stay professional in their photographs, links, posts on the site, as well as the possible replies that your company may agree to make to customers who comment on the posts seen on your website's platform.
Professionalism shows Internet users that this website is a legitimate business's and that everything found on the site will show professional features such as perfect spelling and grammar and politically-correct terms and usage.
Conclusion
Through following the points stated above, it should be simple for your business's website to sky rocket into popularity while maintaining professionalism and gaining more customers for the company. You can find more tips how to start a small business website here.
The only difficult part in having a business website is keeping up with it through posts, promotions, and gaining customers from the site. Other than this, creating the actual website itself can be fun and also create confidence as once you have your professional looking business website; you can become more eager and confident in your business and whichever service it may give to your clientele.
Designing and publishing your website through WordPress is one of the most trustworthy ways to make your first website, especially if the site is supposed to be professional for a company or business's service.
Join over 50,000 developers, designers and entrepreneurs!
Get exclusive articles, special deals and freebies delivered straight to your email inbox!