Starting a profitable e-commerce store takes hard work and dedication. Choosing a store name and deciding which products to sell is only a fraction of the challenge. Many store owners are surprised by how much time and effort is involved in marketing. With that in mind, you want to ensure that you choose the right platform to get your store off to the best possible start. Here is a review of the four most popular options to help you decide which one is right for you.
1. PrestaShop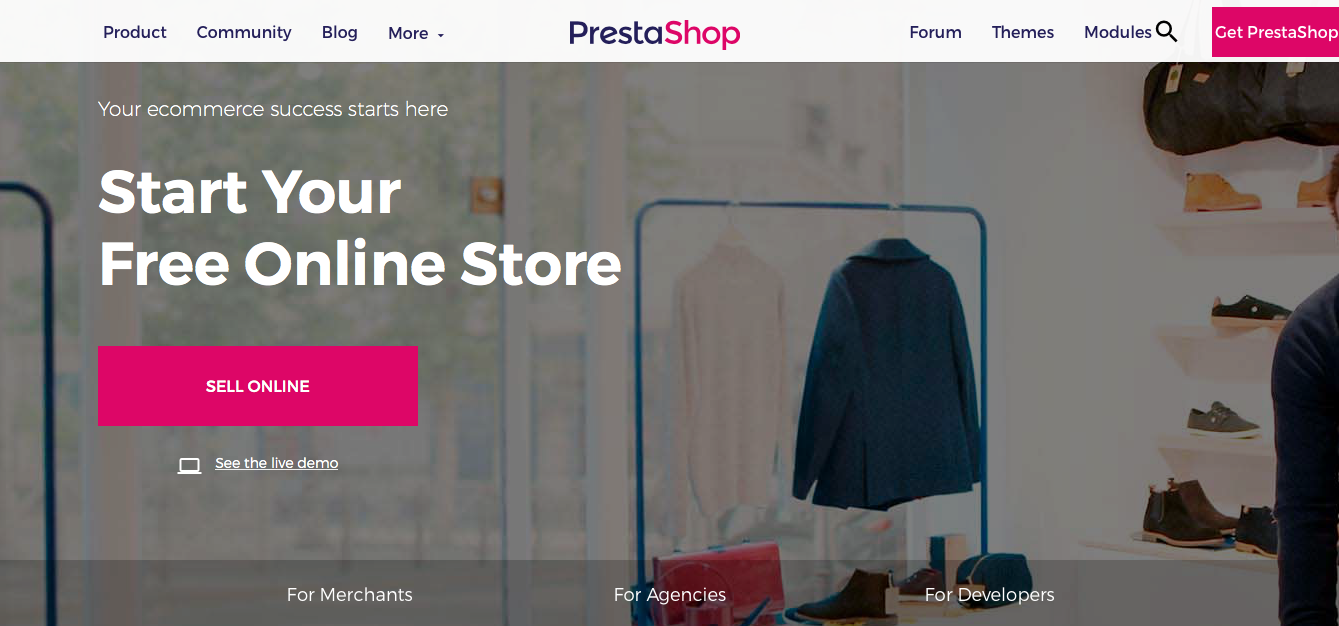 If you are comfortable with setting up and paying for web hosting, PrestaShop is an excellent place to start because it is entirely free. It lets you set up an online store in a few minutes with no fees or revenue percentages. With over 500 features built-in, you'll have all you need to start an online business.
Pros
– There are no sign-up fees, no monthly fees, and no revenue percentages to start using PrestaShop.
– The admin panel is simple to use and intuitive.
– E-commerce analytics can help you increase customer conversions and grow your customer base.
– You can easily export product listings to Amazon, Google Shopping, and eBay among others.
Cons
– PrestaShop is a self-hosted solution so you will need to pay for web hosting.
– The PrestaShop dashboard is less comprehensive than the ones offered by the other platforms on this list.
– Although PrestaShop does have free templates and modules, in reality, you are going to need to buy a decent-looking template and a few modules to stand a chance of having a successful store.
– Customer support isn't free. The cheapest plan is $249 per month and gives you only three hours of support.
2. Magento

Of the four platforms reviewed here, Magento is the most customizable and flexible. It is best for tech-savvy entrepreneurs who are prepared to put in the time to learn how to use the system.
Pros
– The Magento Community Edition is free to download and has no monthly subscription.
– Magento has more customization options than other platforms.
– Magento uses the coding language PHP and is open source, which means the source code is freely available and can be modified so things such as the template code can be altered to suit the specific needs of a store.
– Magento is better than Shopify for large-scale stores with many products.
– With over 5,000 add-on extensions, Magento has more capabilities than other platforms. Ready-made extensions mean that you can usually find what you need without having to code.
– A website called E-commerce Platform compared a range of platforms for 14 factors that they believe are important for e-commerce SEO and found that Magento came out on top.
Cons
– Magento is a self-hosted solution so you will need to pay for web hosting.
– Magento isn't as user-friendly as other platforms. You will need to learn how to use it.
– This platform is suitable for those with medium level programming skills or the willingness to pay web developers to create and develop the site.
3. WooCommerce

If you already have a WordPress website such as a blog, WooCommerce is probably for you. It is a WordPress plugin that is easy to set up and learn how to use.
Pros
– It's free provided you already have a WordPress website and are paying the hosting fee for that.
– If you already have a WordPress blog and install WooCommerce, you can easily edit body content and add meta information that will help potential customers find you quicker. That improves your chances of a higher search engine ranking.
– It's easier to engage with your audience on WordPress as the blogging is logical and well-organized.
Cons
– It requires paid add-ons to scale up. There are plenty of free add-ons, but to scale up your store to start selling on Facebook or integrating your store with something like MailChimp, you'll likely end up paying for add-ons.
– Customer experience is up to you. People won't buy if your store loads slowly or is clunky. That's down to you to check and ensure you have the best hosting.
4. Shopify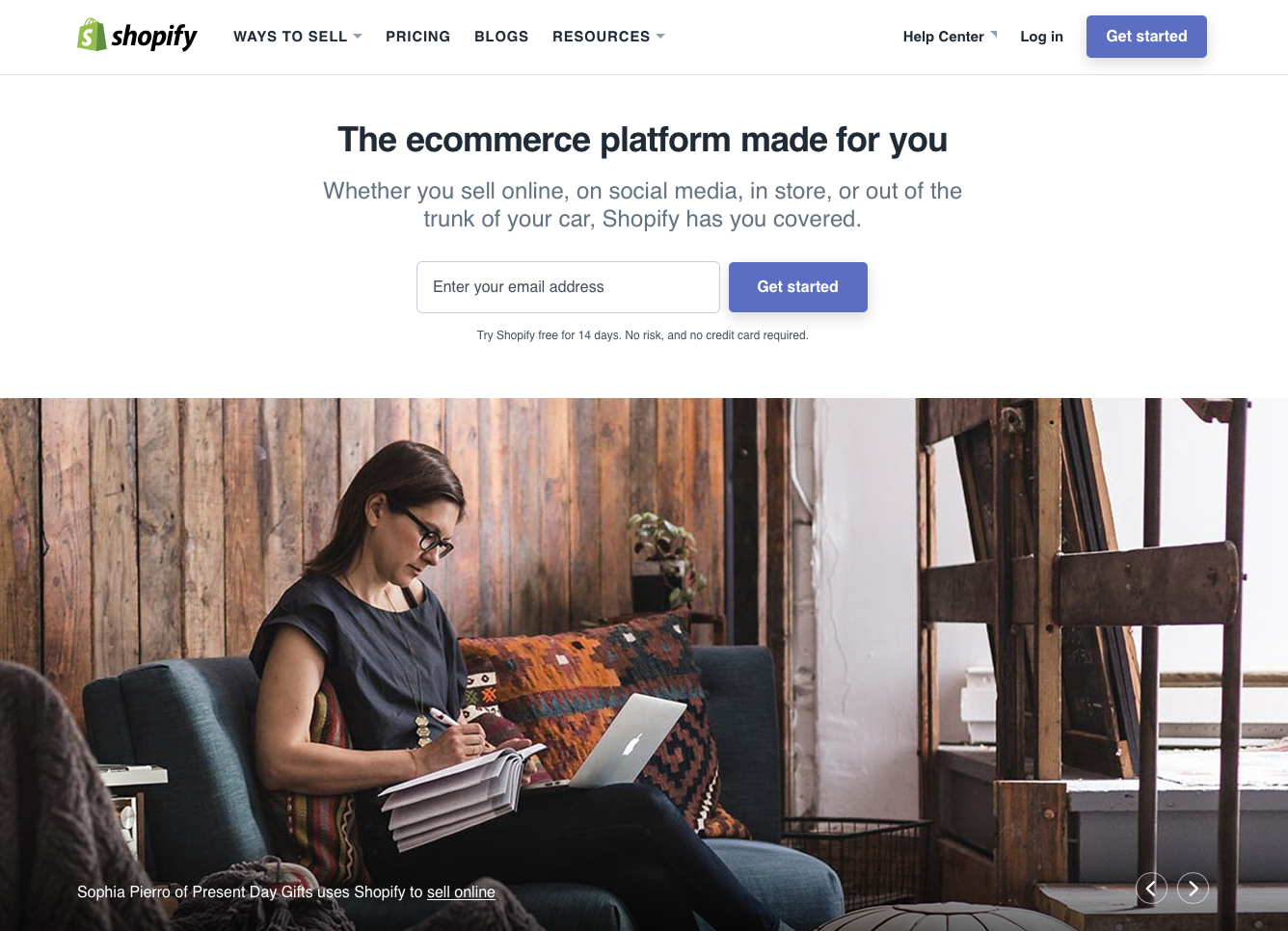 Shopify is one of the leading eCommerce platforms and has a strong following and reputation. You just sign up for a free 14-day trial, choose your store name and start adding products to sell. You have full control over the coding of your site but the user interface (UI) is user-friendly, and no coding skills are required. If setting up a store is too complicated, you can buy an existing Shopify store on their marketplace called Exchange and turn your side business dream into a reality.
Pros
– No coding skills or knowledge is required to use Shopify. Anyone can add products to sell very quickly and easily. Setting up a store is simple, and there are plenty of resources to help. It is drag-and-drop, and it's easy to edit the theme.
– As Shopify is so popular, you can always rely on help from other users via the Shopify forum.
– Shopify handles all web hosting and coding issues, so your customers have a fast, safe, and secure shopping experience.
– Shopify offers market-leading 24/7 customer support.
Cons
– Credit card charges: You need to pay the credit card rate on any payment you take when you make a sale. The maximum is 2.9% and $0.30 per purchase.
– You need to pay 2% to use external payment gateways such as Braintree, Authorize.net or PayPal.
– Extra expenses: Although Shopify offers ten free themes, most successful Shopify users either buy a custom theme or pay for extra customization. That adds significantly to the cost of setting up a store.
– Shopify uses a coding language called Liquid which is proprietary. That means it is not freely available and cannot be modified.
Best for bloggers: WooCommerce
Most bloggers use WordPress and therefore already know about hosting and how to install plugins. If you're a blogger, you'll understand that useful content helps your page rank higher with search engines. Therefore, WooCommerce makes the most sense as you can engage with your audience and help get the word out about the products you want to sell.
Best for newbies: Shopify
If you just want to start a store and have no technical skills, Shopify is undoubtedly the most comfortable choice. You don't need to find a web host, install anything or learn how to use a system. Your Shopify store will come with its own blog, although unlike WordPress, it doesn't allow readers to post comments. The downside of Shopify is that you are paying for convenience. If you do manage to grow a successful store, your selling fees will rise accordingly. You will become frustrated by the lack of customization. However, if you just want a low-fuss, easy store, Shopify is the natural solution.
Best for tech-savvy entrepreneurs: Magento
If you are tech-savvy with medium to high-level web programming skills, Magento is a better option than Shopify as it's free and much more flexible. If you're okay with purchasing hosting and carrying out all the software or system setup and installation procedures yourself, Magento is a good solution.
Conclusion
These four e-commerce platforms differ in many crucial ways. As such, there is no "best" option, and every platform can cite examples of customers who do very well. For example, Nike uses Magento and Tesla uses Shopify. However, it is possible to advise potential e-commerce storeowners about which platform they should choose.
Join over 50,000 developers, designers and entrepreneurs!
Get exclusive articles, special deals and freebies delivered straight to your email inbox!