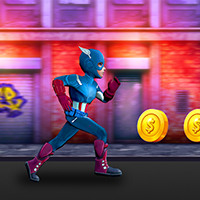 Captain Warrior - Buildbox template
★ Game Captain Warrior ★ is a fun and exciting subway running game
Overview
★ Game Captain Warrior ★ is a fun and exciting subway running game. Get Ready to play with the avengers superheroes! Play the most addictive Avenger Game Captain Warrior Hero Run Runner game!
The most exciting avenger games ever, ★ Captain Warrior Hero Run ★ has arrived to entertain you with all the fun. Join the community of subway runners and run to save Avenger life while dodging trains, obstacles & collecting coins & Power-ups to unlock new Avenger characters and complete new levels.
Captain Warrior Hero Run is an award winning 2D runner that takes place in a cool trains subway from the creators of the best 2D Running Games.
Features
Easy Resking with [Spritesheet Editor] 
Support newest API 27 or latest API Version
PNG. Includes
Android & iOS
Easy Set up ADS (Admob, chartboots etc)
Universal (phone & tablet)
Rate Button
Review Buttons
Simple Tap Game
BBDOC. Includes
Requirements
Android Studio 3+
Buildbox 2.2.8 /2.3
Eclipse Juno
Instructions
How to Re-skin :
-In the Documentation you can search detail information on how to re-skin this project.
-You can change settings all of game process, it's easy, you just need to change value in settings file.
-Also you will be able to setup Ad-Mob in just a minute by inserting your ads IDs and nothing else!
-Project have good documentation and you can contact us for solve your problem!
Thanks for stopping by 
If you like our work and purchased one of them , don't forget to rate and follow to receive all our new work 
For Support :
Feel free to contact us
Give us feedback or any advises
enjoy