Affiliate Pro Script
Affiliate Script is fully Affiliate management system That allows you to Track Any Sale, Action, Click, Lead, Registration, Form s





Average rating of

5

based on

1

votes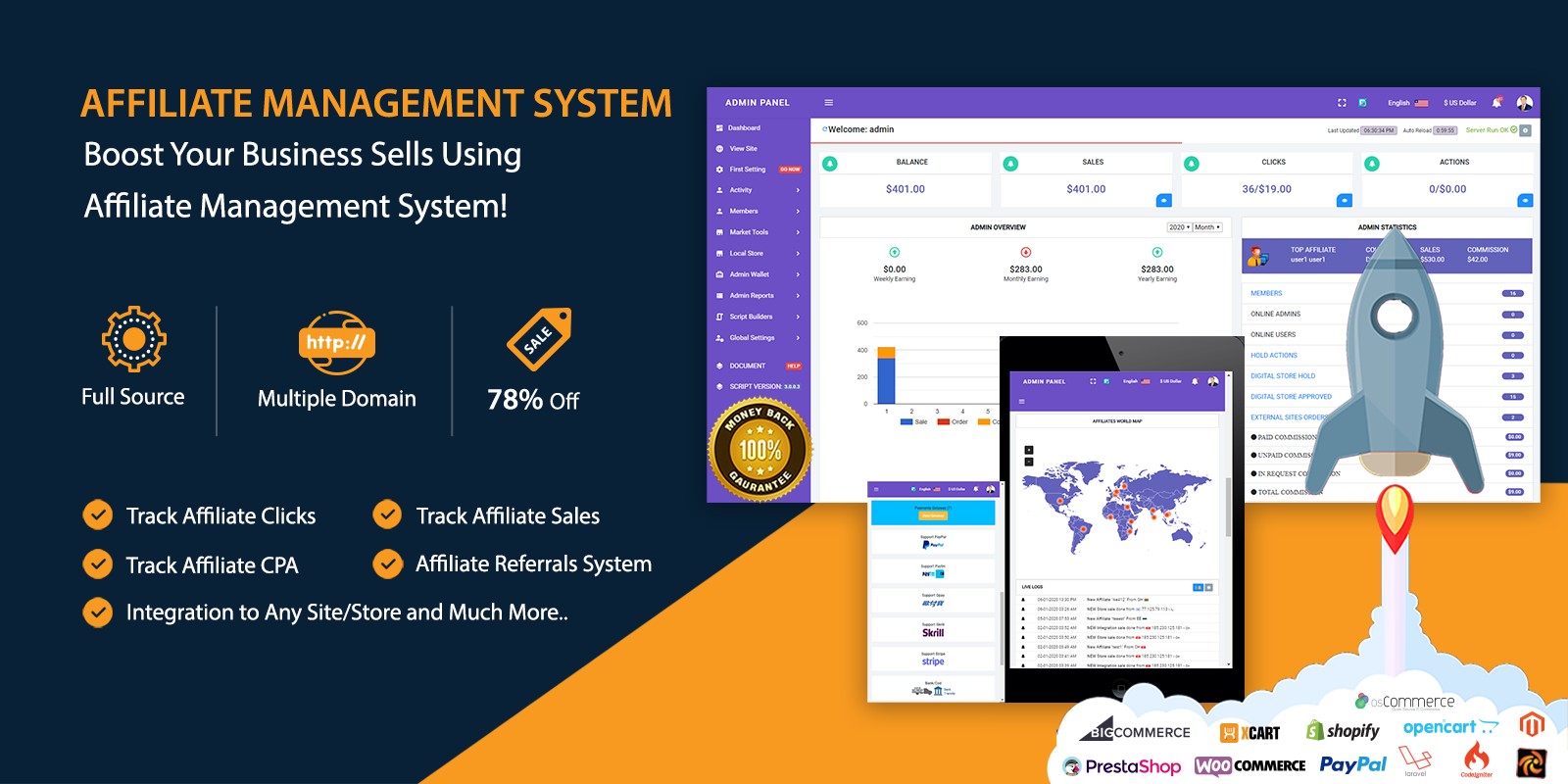 Overview
Affiliate Pro Script
---------------------------
Are you manage Any Online Store On the internet and you are looking the way to boost your sales? You need Affiliates!
You will need to manage your Affiliate's commissions, you will need our Tool, Affiliate Pro Script!
Why you need it?
Affiliate Script is fully Affiliate management system That allows you to Track Any Sale, Action, Click, Lead, Registration, Form sent and more!
Then, assign that Action To the Affiliate it comes from him and pays him his commission for his Action.
By that, you Boost your sales on your site and Your Affiliates happy from The Income.
Affiliate Pro Script has fully compatible with any hosting Linux server, shared/VPS/dedicated.
Affiliate Pro Script can be integrated to Any Store like WooCommerce, Magento, Prestashop, OpenCart.
Also, Script can be integrated to any custom site using PHP/ASP/HTML, To Track, any Action like registration, form sending, leads done, sale, click or any other action you like too.
Is That Amazing, right?!
You do not have any external store? And still, want to boost your store sales?
DO NOT WORRY, we took care for this too!
The script is coming with a full store to manage your sales and clients!
Features
·         Integration To WooCommerce

·         Integration To Magneto
·         Integration To OpenCart
·         Integration ToPrestashop
·         Integration To Custom PHP Website
·         Integration To Custom ASP Website
·         Integration To Custom HTML Website
·         Support CPA - Cost Per Action
·         Commission programManager
·         Sales CommissionManager
·         Click CommissionManager
·         Tools IntegrationsManager
·         Banner Ads Manager
·         Video Ads Manager
·         Link Ads Manager
·         Text Ads Manager
·         Language Manager
·         Site Backup's
·         Currency Manager
·         Mail Template
·         Report Department
·         Transactions Report
·         Wallet Manger
·         Affiliate Front Template Editor
·         Affiliates Levels
·         Online Document
·         Script Requirements
Requirements
Linux hosting
sourceguardian module
zip module enable
Php version 5.4 +
MySQL version 5 +
Instructions
Full Support 24/7
Free installation
Full free support
Life Time License