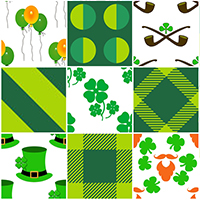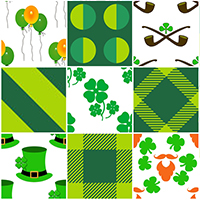 32 St Patrics Day Seamless Tileable Pattern
32 St Patrics Day Seamless Tileable Pattern
32 St. Patricks Day Seamless Tileable Patterns in Back Color for many Decoration uses.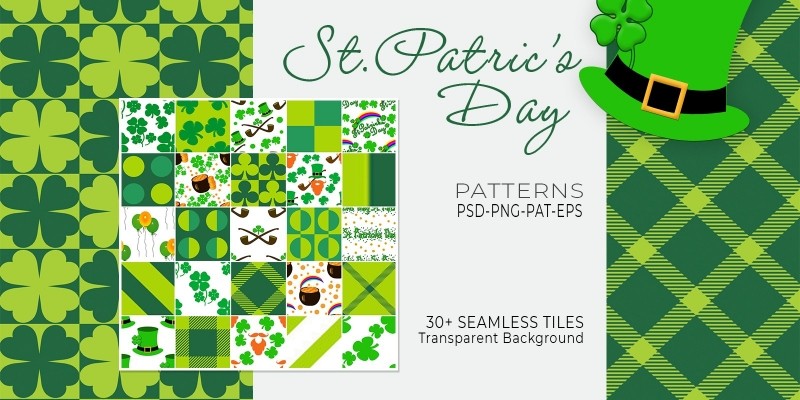 Overview
This is a Set 32 St. Patrick's Day  Patterns. Seamless and on Transparent Background. 
You can Use it for Backgrounds, Scrapbooking, Invitations, Business cards, Banners, Wallpapers, Wrapping paper, Fabric print or any other Different Purposes and Decoration Ideas.
All Patterns are in Isolate File Seamlesss,Tileable in Black Color line.Give you many Impressive Combinations of Colors or of Pattern's Design.
.
Features
The File Contains:
32 JPG Tiles 
32 EPS Tiles  
32 PNG Tiles 
32 PSD Files  
32 PAT Tiles Photoshop Patterns File 
Color Mode: RGB 
Minimum Editing Software Requirement: Photoshop 2015, 
Files Included:  Photoshop CC 2015 (PSD.PNG,PAT)
Illustrator CC 2014 (EPS)
Requirements
Photoshop CC 2015
Illustrator CC 2014
Instructions
Note: The Online Samples,Images & Mockups,
Belong to Their Owners
and Are Only Used for Demo Purposes.
NOT INCLUDED.
*This is Not a Mock-up file.

Impressive Combinations of Colors 
or of Pattern's Design.
Try it!