World War 2 Soviet Union Tanks Sprites Collection
World War 2 Soviet Union Tanks Sprites Collection
2d Soviet union pixel tanks sprites icons for strategy game
World War 2 Soviet Union Tanks Sprites Collection
2d Soviet union pixel tanks sprites icons for strategy game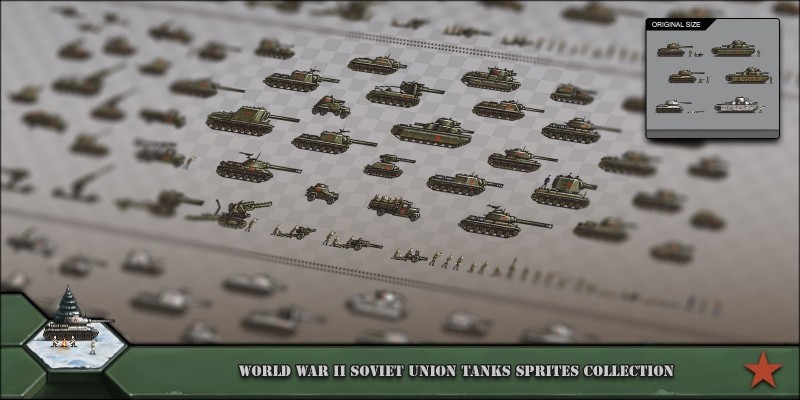 Overview
World war 2 Soviet union tanks sprites collection for your wargame ! Sprites perfect fit for turn-based strategy games with hexagonal world or can be used as icons or pixel arts for any kind of games !
Features
35 units with 3 types of camouflage for each unit + anti-tank
 guns , artillery , soldiers and alternative sprites.
All sprites in PNG format (In total 297 files , size of sprites not fixed , smallest sprite 37x21 px , largest 88x34 px).
Also have PSD file with all sprites in one layer for brightness and gamma correction if needed.
Requirements
For gamma and brightness correction you need Photoshop or alternative program (GIMP, Krita) for open PSD file.