Bottle Flip Full Buildbox Game Tempalte
Bottle Flip Full Buildbox Game Tempalte
Think you can take on the Impossible Bottle Flip?
Bottle Flip Full Buildbox Game Tempalte
Think you can take on the Impossible Bottle Flip?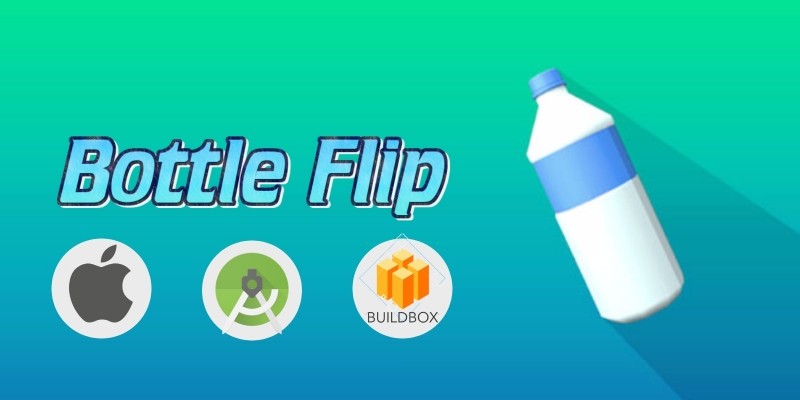 Overview
-You have to flip a plastic bottle in the exciting arcade game Bottle Flip ! Make the bottle jump or even double flip. How? Just tap the screen at the right moment and jump! 
Explore different rooms, jump on all sorts of objects: shelves, tables, chairs, sofas, and even subwoofers! Train your agility, develop coordination, control the strength and distance of the jump. 
And most importantly - calculate the distance correctly because it depends on whether you can get to the finish line and win! Interesting levels, different obstacles, and your ideal flips - with Bottle Flip 3D you will never be bored! Enjoy! 
----Functions----
- Agility, coordination, and fun - this is a new arcade game Bottle Flip !
- Flip a plastic bottle - explore different rooms-levels.
- Tap the screen at the right moment and jump, winning the Bottle Flip  depends on you! 
- Do you think throwing a bottle is easy? Try it then! 
- The fun is just beginning - interesting levels and easy controls, what could be better?
Features: 
→ Unlock cool new Characters 
→ Fast action One Touch Gameplay
→ Challenge your Friends for the High Score
→ Extremely Fun & Addicting!

How to Play:
Tap and hold to slide. 
Release to Jump
Tap again to Double Jump
Features
Features
❖ Full Game (Included Buildbox-File, Android- and IOS-Code)!
❖ AdMob Banner + Chartboost Interstitial
❖ Universal game resolution (Phone / Tablet)
❖ Unique Gameplay and Sound Effects
❖ Endless Game
❖ Share
❖ Leaderboard
❖ RateUs/More Games
❖ Sound Option (on/off)
❖ Character-selection
you will get this files:
❖ The full Buildbox-Projectfile (BBDOC FILE)
❖ Android Source Code
❖ iOS Source Code
❖ including all Images (png Files)
❖ including all Sound (mp3 Files)
❖ easy step by step Documentation (pdf File)
IMPORTANT:
❖ You can use the graphics for free
❖ You can use the music and sound effects for free
❖ This Game is ready to publish: buy it and upload it!
Requirements
❖ For Android - You will need Android Studio 
❖ For iOS - You will need macOS with Xcode 8+
❖ It will be good to have a Buildbox software (2.3.3+)
❖ Buildbox 2.3.3 or Above (only needed to change the gameplay) 
❖ XCode / Eclipse ADT Or Android Studio 
❖ Java JRE 7 or above
Instructions
- If you need to add more levels, Graphics, Characters etc, and buildbox template ,Buildbox is required.
- For any Question Regarding This Template You can Email Us @ [email protected]