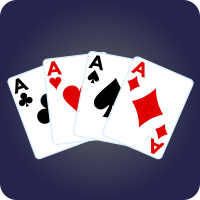 Classic Solitaire - Android Source Code
The Android version of the card game enjoyed by over 100 million across the world
Overview
This is the Android version of the classic card game enjoyed by over 100 million people across the world. Solitaire, a.k.a. Patience or Klondike is an easy-to-play card game in which the player attempts to move all cards from the tableau and stock into their respective foundations. It's a particularly popular casual game among older audiences.
Complete game. Ready to publish to app stores with minor changes. Simply set your IDs, customized strings, and privacy policy
Features
Java Source Code
AdMob Implemented (Banner & Interstitial ads)
Sounds Included
Multiple Screen Sizes Supported
Rate & Share
Compact APK size
Amazon & Alternative App Store Compatible
Game Features:
Draw One or Three Cards
Maximum Redeals or Unlimited Redeals
Undo Last Move
Request Hints
Auto-Complete
Player Statistics
Requirements
Android Studio 3.4 or other similar IDE suitable for Android development
Instructions
1. Download and install Android Studio 3.4 or later from https://developer.android.com/studio
2. Select "Open an existing Android Studio project" and open "Solitaire/Project"
3. Replace the strings in "app/res/strings.xml" with your own. Notably, the links and AdMob unit IDs.
4. Edit the "key.properties" and set your keystore path and passwords before release. (optional)
5. Edit app/src/main/assets/credits.html and app/src/main/assets/privacy.html to set legal/attribution and privacy policy pages respectively