Modern Suits Slot Unity Game Template
Modern Suits Slot is a powerful template with complete solution of slot, casino game with code, graphics, animations and sounds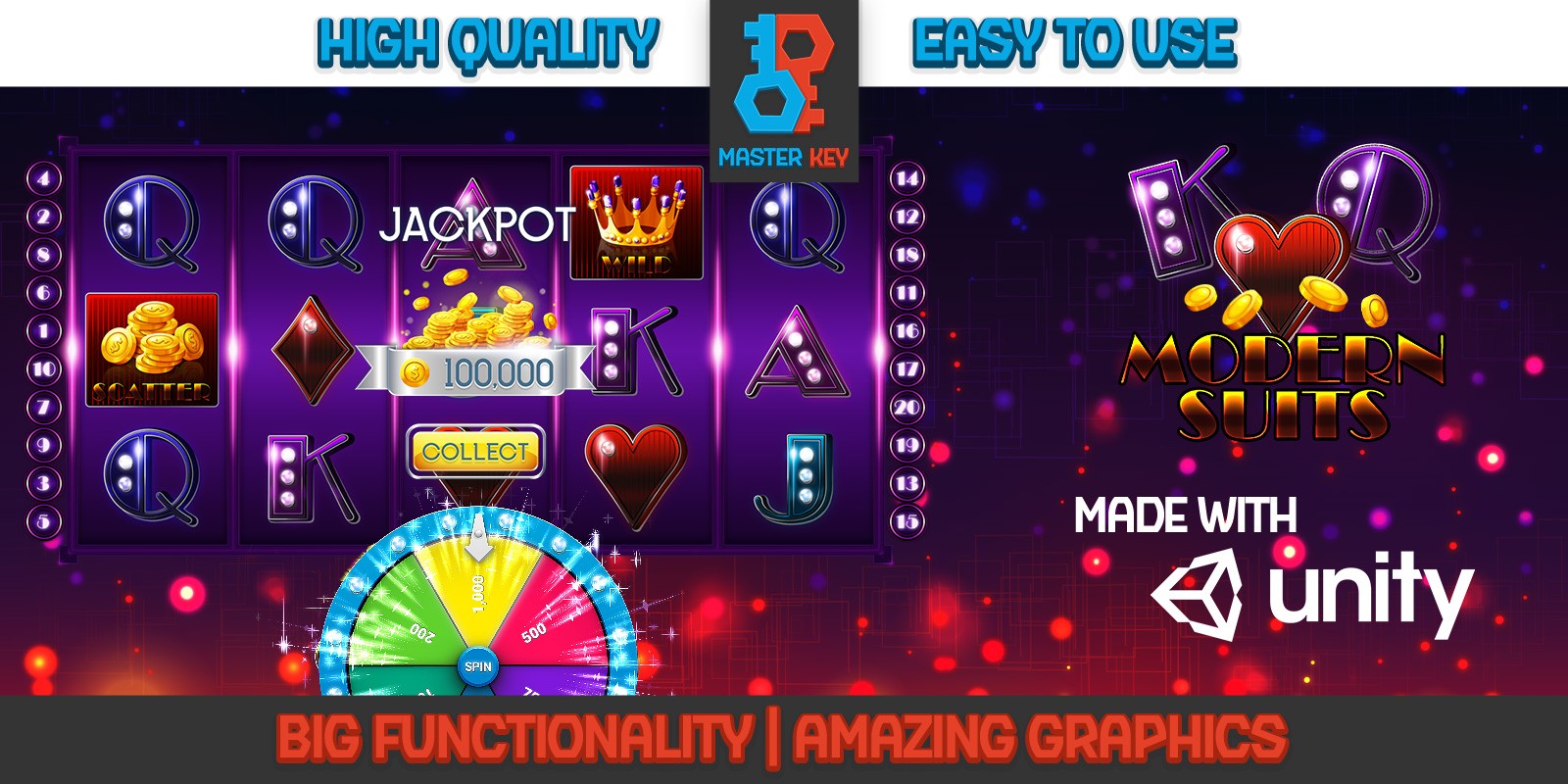 Overview
▷ Gameplay Video | ▷ Gameplay New Scenes | ▷ Video Instruction | ✐ Documentation | ☀ Demo Real
Modern Suits Slot Asset is a new powerful Slot game with premade Game Screen, Lobby, Pop Ups in casual, modern, shiny, colorful style for your mobile/web/video game. 

It included complete solution of slot possibilities, including changing amount of the reals, symbols, different rules, probability calculation etc. It has also premade simple slot calculator. Working on IOS, Android, Web. The package is provided with complete source code, graphics files, properly commented code and with a detailed documentation for easy getting started. 
Build your game in days not weeks! 
Features
INCLUDED FUNCTIONALITY: 
• 8 premade Scene (3x3, 3x5, 4x5, 3x5 all lines, 1-2-3-2-1 slot games, Bonus Game, Jackpot Game, Lobby) with ready buttons and Pop Ups functionality
• Customizable Pay Table with probability calculator 
• Customizable number and order of symbols on the reel 
• Customizable number of slot lines and improved lines controller
• Spin simulation test for any selected symbol
• Automated Bet Lines creation
• Pay line events (for simple customize line win)
• Jackpot functionality (set up from 1 to 3 jackpots)
• Scatter pay table
• Unity and Mersenne-Twister random generator
• Ready to add any number of games 
• Connect player to Facebook, Facebook gift after login 
• Ready to in-app purchasing
• Players data saving and reset to default data 
• GUI controller with Pop Ups
INCLUDED GRAPHICS: 
• Premade Game screen in PSD and PNG. 100% editable, 2732 X 2048. All elements are also in PNG, ready for code; 
• Premade Lobby screen in PSD and PNG. 100% editable, 2732 X 2048. All elements are also in PNG, ready for code; 
• 12 Modern Symbols for slot. 100% editable, in PSD and PNG; 
• 12 Premade Pop Up (Menu, Settings, Shop, About, Big Deal, Level Up, Pay Lines, Minor Symbols, Major Symbols, Help, Level Up Congratulation, Big Win Congratulation) in 100% editable PSD. All elements also in PNG, ready for code; 
• Premade GUI elements, including hover effects in PNG and PSD. 100% editable with different styles; 
• Documentation. 
PRODUCT DETAILS: 
• Powerful and easy to use;
• Suits for all screens resolution;
• Easy to customization;
• Working on IOS, Android and Web;
• Properly commented code;
• Detailed documentation.
Requirements
Unity 2018.3.12 or higher
Instructions
Watch our video instructions and documentation inside to set the template. 

NOTE: We try to make the best products, so we are always happy to help you understand the project. If you have any issue or suggestion, please email us. 
It is also possible to change some features or add new, made new UI and theme designs. If you are interested, please contact us individually. 
☀ Site | ✉ Technical Support | ✉ Marketing Email