K2 Online Users - Joomla Module
K2 Online Users - Joomla Module
K2 Online Users is a simple Joomla module for displaying the avatars of online users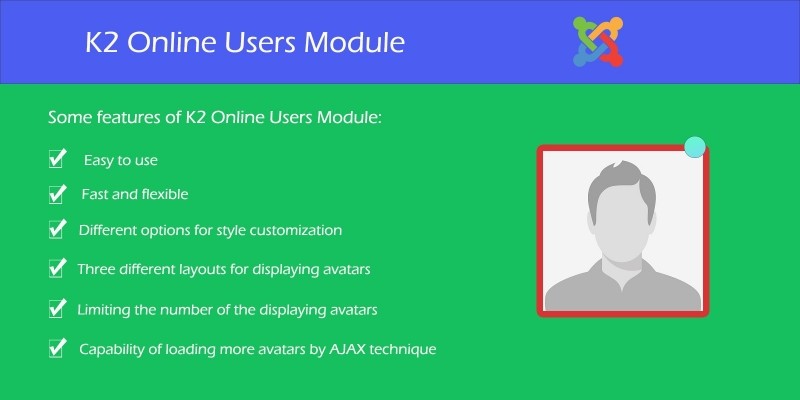 Overview
K2 is a popular Joomla extension that provides many features and capabilities for Joomla users. Avatar image for users is one of these features.
K2 Online Users is a simple Joomla module for displaying the avatars of online users. It uses K2 avatar of each user to show a list of online users. You can easily customize different options of this module.
K2 Online Users provides the capability of excluding the given users. You can limit the number of displaying avatars and load more avatars by using AJAX technique.
This module has three different layouts for showing the avatar and name of online users.
You can easily control and customize this module via module setting at admin panel.
Before installing this module, you have to install K2 component. This module can be installed on Joomla 2.5.x, Joomla 3.x.
If you like to learn more about details and module setting(parameters) of K2 Online Users, please visit the documentation page via following link:
https://github.com/mostafa272/...
Features
- Easy to use
- Fast and flexible
- Different options for style customization
- Three different layouts for displaying avatars
- Limiting the number of the displaying avatars
- Capability of loading more avatars by AJAX technique
- Capability of excluding users
Instructions
Download this module
Install this module via Admin Backend
Configure the setting of this module at Admin Backend