Gamefire - Game Server Tracking Platform Script
GAMEFIRE is a professional tool which allows you to track your server statistics.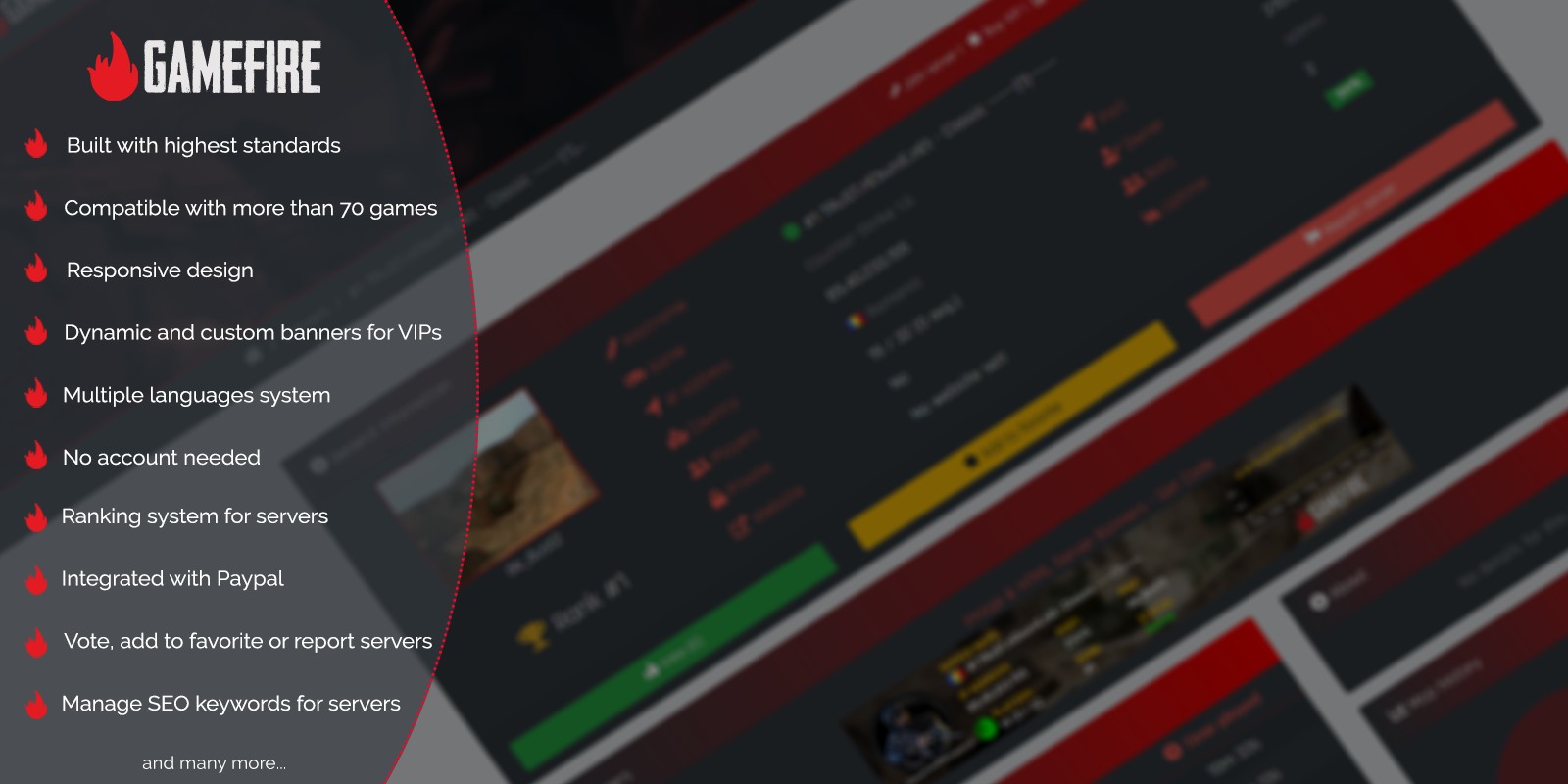 Overview
GAMEFIRE is a complex platform which allows you to track game servers. It was created to be extensible and easy to use and contains a lot of features already built-in.
GAMEFIRE allows you to track your favorite game servers. This tool will save server history data about played maps, online players, average players, uptime and more. Based on this data, we will rank your server on our website.
This script can be used as a public website, but you become fully responsible for all actions and user private data.

Features
Add and manage servers
GDPR (Europe Union) / CCPA  (California) friendly
Users can add servers without any account created
(Optional) ChatBot capable to communicate with your Facebook page
Buy VIP packets for your server
Track servers data (online players, uptime, maps and more)
Rank for servers
Players database (online / offline players, similar players who played on another server)
Customizable dynamic banners and custom banners for VIP servers
Claim server ownership - become owner of an existing server
Multi-language system (already two languages implemented - English / Romanian)
Comments system on server's page
Add to favorite / Vote / Report server
List / search / view players
List / search / view servers
List / search / view users
Paypal ready
Admin Panel to manage entire application
and many more
Requirements
VPS / VDS - it's not working on shared hosting
PHP 7.2 or newer
NodeJS v10.15.3 or newer
Yarn 1.15.2 or newer
MySQL 5.6 or newer (I used MySQL for development, but you can use other database drivers like MSSQL or SQLite- see here for a full list of compatible drivers with Doctrine)
SSH access
Instructions
Documentation can be found inside the archive. 
If you have any questions, don't hesitate to contact me.