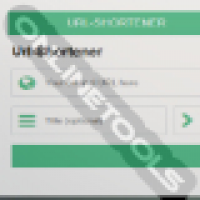 Online Tools - Shortener Uploader Downloader PHP
With this tool you have 3 systems. Url Sortener, Image and FIle Uploader.
Overview
With this tool you have 3 systems.
Shorten your url's, set a limit or protect it with a password.
Upload your pictures and protect them with a water marker.
Upload your files, set a limit or protect them with a password. Decide which formats can be uploaded.Create other language files.
Installed and ready to use in one minute.
Features
Url Shortener
Image Uploader
File Uploader
Automatic multilanuage
Easy Installation
Mysql and SqlLite compatible
Images with Watermarker
Requirements
PHP 5.x or higher
Server with PHP
MySql or SqlLite
Support .htaccess files
Instructions
Upload the contents of the folder "upload".
Call up the page and follow the instructions.
-- upload
    |-- index.php
    `-- onlinetool.zip