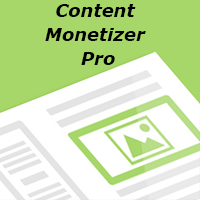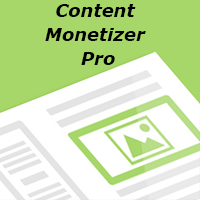 Content Monetizer Pro - WordPress Plugin
Content Monetizer Pro - WordPress Plugin
Content Monetizer Pro is built with several options and features… Image advertisements, Third Party Ads, buttons as ads





Average rating of

5.0

based on

1

votes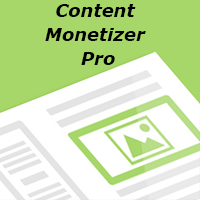 Content Monetizer Pro - WordPress Plugin
Content Monetizer Pro is built with several options and features… Image advertisements, Third Par...





Average rating of

5.0
Overview
If you have been looking for such type of plugin that can help you with the advertisement on your website but you don't want to create much fuss about it. Then Content Monetizer Pro is the right choice for you. With amazing features and easy usage, this plugin is the best for newbies and pros alike.
Features
With the help of Content Monetizer Pro you can:
Publish Image advertisements
Third Party Ads
Use buttons as ads

Features of Content Monetizer Pro:
Use buttons as ads:
This is a unique feature that is not offered by a lot of other plugins. We want you to advertise as much as you can for that we are providing you a feature of using buttons as ads. 

Third party advertisement:
Now you can promote your clients by this unusual feature of third party advertisement for which you don't need to pay any extra amount.

User-friendly plugin:
The plugin that we are presenting to you is very user-friendly and easily customizable with easily understandable code. Now you don't need any professional help to get this plugin according to your use.

Simple Statistics:
The show stopper feature of this plugin is its statistics feature that is simple yet easily understandable. The statistical representation that we offer is Graphical representation per click.

Embeddable anywhere:
If you are professional WordPress developer, then you must be aware that other types of plugins provide embedding of ads only at one place, but our plugin is unique. It enables you to embed your ads anywhere and everywhere.

Group Ads:
With fantastic features that this plugin is offering another one is group ads. Now you can insert multiple ads at once in a form of group. This will allow you to have more space for other things you want to add in your website without consuming much space for ads.

Shortcodes:
Our amazing Plugin accepts shortcodes without any issue. Whatever the shortcode type is, it will be added in the ads that you like to display on your website.

Easy Customization:
With easily customizable features, our amazing plugin makes your site stand out in the crowd with additional and easily convenient features.

No high level of coding standards required:
Content Monetizer Pro is made with a unique thought in mind, i.e., to help the beginners and enable pros to enhance their websites efficiently. So you don't need to worry about high-level codes anymore because this plugin is made for ordinary men.

Easy installation:
A plugin is of no use if the user can not install and customize it quickly. To avoid any mishap we have developed this plugin with easy installation procedure to provide our customers with much ease as we can.

Technical Support 24x7x365:
Our professional staff works day and night to provide the best services to its clients. You can contact us anytime anywhere, and we will be more than happy to help you.
Requirements
Requires at least  WordPress version: 4.0
Tested up to: 4.5.4
Instructions
1-Unzip content-monetizer-pro.zip inside the /wp-content/plugins/ directory for your site (or install via the built-in WordPress plugin installer)
2-Activate the plugin through the \'Plugins\' admin menu in WordPress
3-Click on the Content Monetizer Pro menu item in your WordPress dashboard to customize the plugin settings.