MobiText - Bulk SMS Platform PHP Script
Setup Your Own SMS Business, by using our Bulk SMS Software (Advanced)





Average rating of

5

based on

1

votes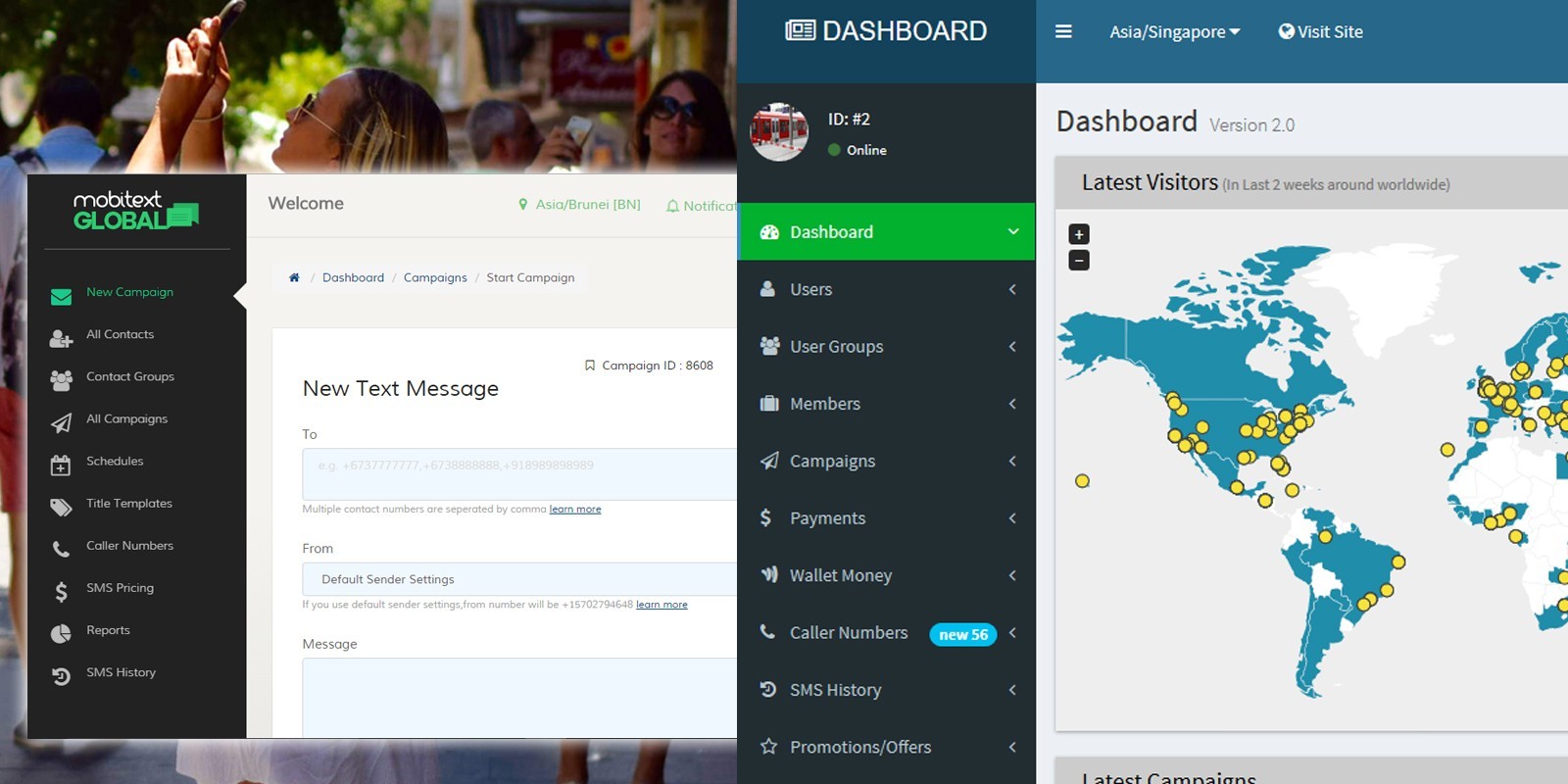 Overview
Best "Bulk SMS Software" suitable for setup your own SMS Business (its for sure) Or you may use it for individual ,we noticed many SMEs having troubles to promote their business, since they might not aware how to do SMS promotions (or) to whom they have to approach (or) they don't have proper software (there are many factors). We believe this product is very useful to promote/campaign your business (as a SMEs) to we do provide best support/assistance in case of technical issues.
Download entire software with programming (source code) files and host it at your server location, that's it. But you should have your own ( Payment Gateway & Twilio Account ). Important you should aware how to get the keys from twilio and 2checkout account and update it to MTG(MobileTextGlobal)'s account.
If you fail to update proper keys impacts you can see exceptions (relevant to SMS and payments) @ admin/member portals. Once you updated correct settings then you may setup your own pricing from this software and provide your services to any country in the world  (except very few countries).
We integrated 2Checkout as our payment gateway,  but you should register with 2Checkout to get the keys (update from our software "Payment gateway settings") which will forward all payments to your account.
Our software divided into 3 applications :
a) Administration Application ( Where can control entire memeber activities and content , can assign caller numbers , configure sender ids , monitor payments , wallet transactions ,sms history etc.,)
b) Member/Client Application ( The actual application for clients to campaign SMS to their business,which consists more features )
c) A Landing site ( corporate website ) - The content here is clone of our corporate website ( https://onetextglobal.com ) you may change the content as you like.
Please visit the demo sites :
Front (landing home page) : http://mtg.onetextglobal.com/home
Checkout changes : http://mtg.onetextglobal.com/docs/v1.3.3.txt
===================================
For Administration manual please visit :
http://support.onetextglobal.com/tutorials/MTG_Administration.pdf
================================
For Member manual please visit :
http://support.onetextglobal.com/tutorials/MTG_Client.pdf
=================================
For help please visit : http://support.onetextglobal.com
(or) Email us to : support@onetextglobal.com
Note: Version 1.3.3 Already Released
Features
We offering many features like :
Shortcode/ Longcode
SenderID Settings ( Own branding )
Virtual Caller Number (Dedicated Caller Number)
Wallet Money ( To check spends )
Payments ( To Make Deposits )
SMS Campaign (By Contacts, By Groups) to Worldwide with best prices ( the pricing is upto you )
A powerful administration to control member application and setup
Many more ...
Requirements
The software developed using "Codeigniter" Framework , with backend database "MySQL"
Versions : PHP 5.x, MySql 4.x
Client side scripting : Bootstrap , AngularJs, JQuery,Ajax, HTML5,CSS3, etc.,
Payment Gateway : 2Checkout.com
SMS Provider : Twilio
----- Basic Requirements --
A shared / dedicated hosting account ( with a valid domain name / IP)
Cron Jobs Setup ( from Hosting )
Account from 2Checkout.com 
Account from Twilio ( Note : Twilio is master SMS supplier to us)
Instructions
Please refer our web tutorials for more details.