Flash VPN - Android App Template
Flash VPN - Android App Template
Flash VPN - is a lightning-fast free VPN proxy service, simple click to connect.
Flash VPN - Android App Template
Flash VPN - is a lightning-fast free VPN proxy service, simple click to connect.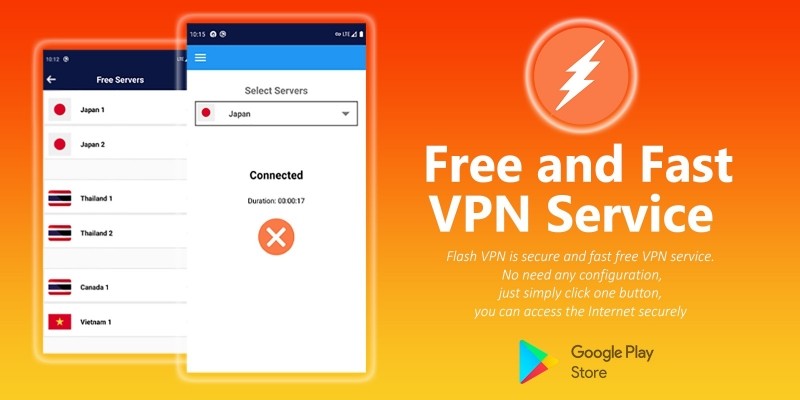 Overview
Flash VPN is a lightning-fast app provide free VPN service. No need any configuration, just simply click one button, you can access the Internet securely.
Flash VPN give you free secure connection, When it's come Internet's safety and security then we should use Flash VPN, 
It's no matter where are your location you can accesses any website with flash VPN.
Our team is working very hard to give you better service, if you give us 5 star review our team member will be vary happy.
Your personal information is very important to us so we don't collected any personal information, you are always secure with this app.
Flash VPN connectivity is very fast just you need to click the connect button and Flash VPN is connect is fast lighting way.
You can enjoy with visit any website that you want to visit. Accesses to geographically blocked website. It can also unblock video not available in your country.
Flash VPN is the best Free secure VPN in the world, it's faster free VPN & unlimited proxy server lifetime free access.
Unblock any website on Chrome browser, UC browser, Firefox, Safari, Internet explorer and Edge, opera, and much more. 
What is VPN?
VPN mean Virtual Private Network, it's allows you to create a secure connection to another network over the Internet. It can be used to access blocked websites, secure your browsing activity on public Wi-Fi. It's can be change your IP address so no one can track you.
Why we should use VPN?
If you are doing sketchy things. If you are downloading torrents or doing other things that are not legal in your country then using a VPN provider can cover your tracks. 
Public WiFi is an unknown variable . It could be WPA2 protected or completely open. It could be installed by a network professional with professional equipment allowing them to make it very secure, Thus any non-https traffic could be watched on public wifi, and your device will be more vulnerable to attack from others on that same wifi connection.
Using a VPN protects against the ease-dropping, but not being more vulnerability. 
If you want to hide secret data or information such as bank account passwords, certificates, important documents securely via an unsecured internet connection then flash VPN might really helpful for you.
   **Support**
If you have any query regarding this app feel free to contact us.
Features
** Important features**
* Easy to use
* One-click to connecting Flash VPN.
* NO need to rooted device for this Flash VPN.
* Encrypts your internet traffic using VPN.
* Top server speed & reliability.
* User can use VPN without registration.
* Unblock geographically restricted websites.
* Using most secure VPN solution.
* Free server to choose
* anonymously website connection
* safety for hacking
* protect your privacy
Requirements
Google play console account
Admob account
Android Studio
Instructions
Change app name
change app id
change Admob id
change privacy policy