Overview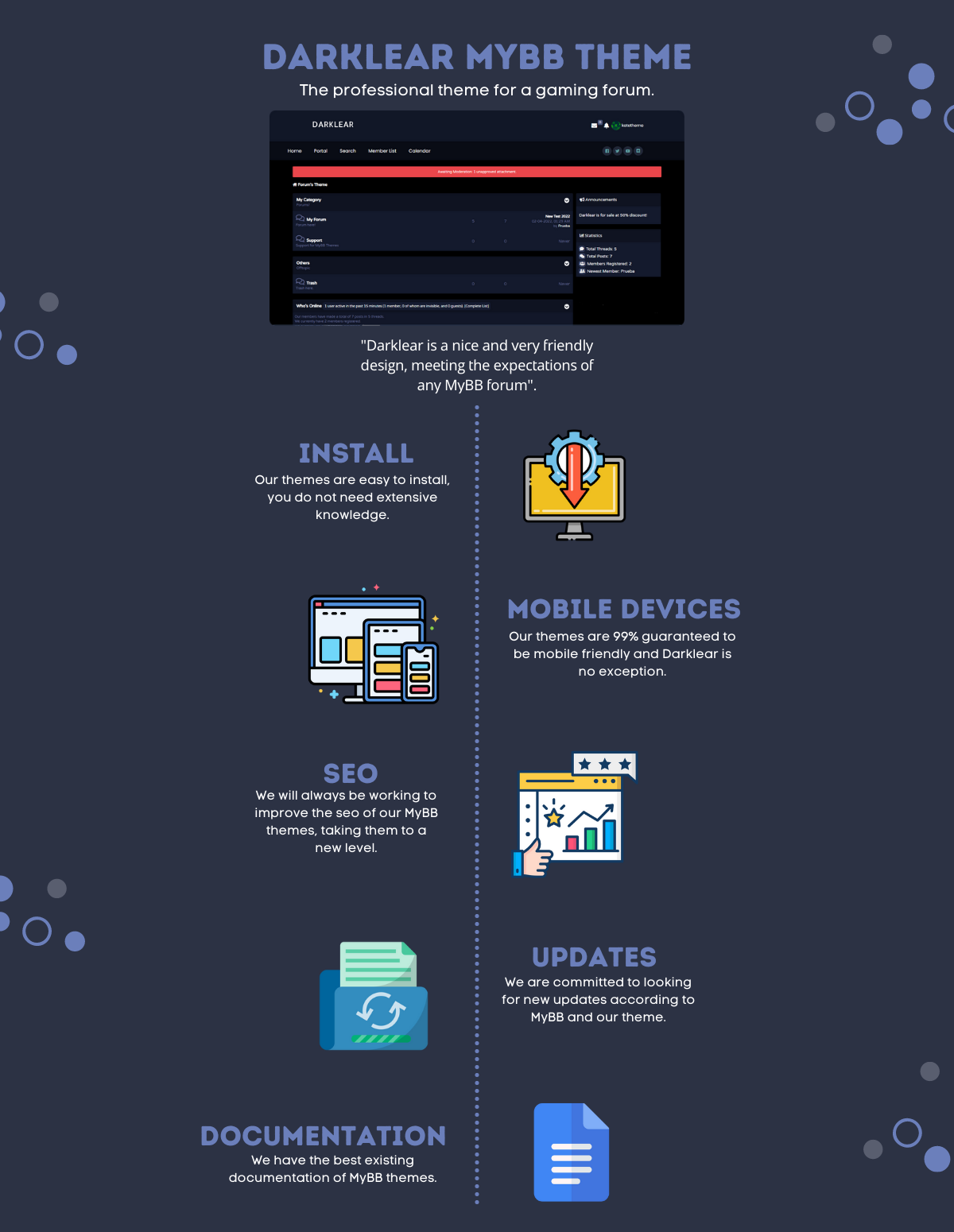 Features
Easy to install and use.
Pure CSS, nothing bootstrap. 
Super fast charging on all devices. 
Responsive design Many rebuilt parts, to make it modern.
Variables of css to facilitate the change of colors. 
Use of FontAwesome icons. 
Supports mybb plugins. 
Good documentation 
A good support.
Requirements
Have installed mybb 1.8.30
Have knowledge in html and css (not mandatory)
Instructions
Install the theme (admin -> Templates & Style -> Import a Theme) And finally activate the theme.
If you don't know how to install the theme or have a problem, check the documentation.
Reviews
Aug 12, 2021

Rating:

Thanks for a great theme ! A+ Dark Theme, works great since I changed from phpBB to myBB after the total re-launch of Phorum.ws after loosing all data on old web host, I think this theme is perfect for the Phorum.ws Look!
I think the included Font Icons is a great idea, you should add a way to change them in Admin CP OR a detailed instructions on how to manually change the Icons and showing every icon available in the collection, so we can easily choose icons from the whole set to change icons around = I hope you can add this to next Version/Update!
I'm looking forward to using this great product, and hope the idea's put forward by us buyers are taken into consideration and new versions are created frequently with new features/functions and ways to change/edit theme to easily make each site the theme is used on different from each other in small ways by different ways to edit/change theme!

Jul 19, 2021

Rating:

Amazing Support Actually cares for customers and goes above and beyond. Would recommend purchasing to anyone in the market for a theme.

Dec 17, 2020

Rating:

Very good support