Markdown Previewer WordPress Plugin
This is WordPress plugin. It previews and edits markdown files.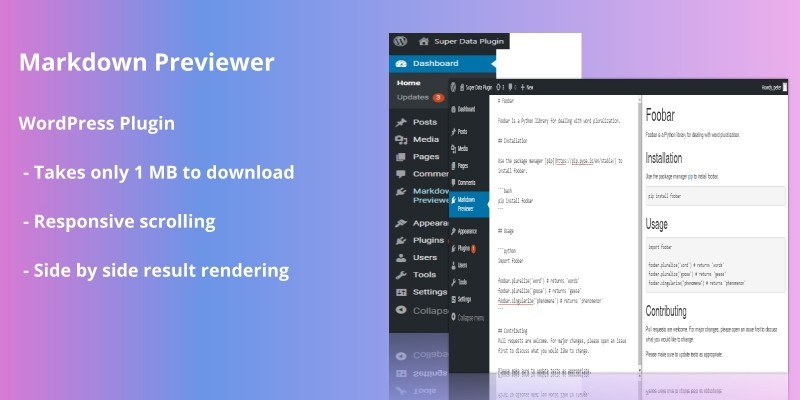 Overview
Markdown Previewer Plugin
Traditional Markdown Previewer Software
Difficult to handle?
It is very bulky in download
Not responsive previewing
Not real-time previewing
Markdown Previewer Plugin
Why buy it?
It rendered result in real-time.
Responsive scrolling makes the previewing and editing markdown file easy.
Side by side rendered result.
Features
You can preview and edit markdown files' content
Simultaneously view rendered result
Responsive scrollable window
Requirements
Use WordPress version above 3.8
 Plugin operates only low internet connection.
Use Chrome Browser for fast processing.
Instructions
Step 1
Activate plugin from Plugin section of Dashboard
Step 2
You will see "Plugin Activated" message at the top.
Step 3
You will see Markdown Preview with plugin icon click on it
Step 4
Window is divided into two parts as left side is Editable Markdown Input and right side is Rendered Result.
Step 5
If you want to deactivate Markdown Plugin ,you will see Deactivate button in Plugin section.
Step 6
You will see "Plugin Deactivated" message at the top.