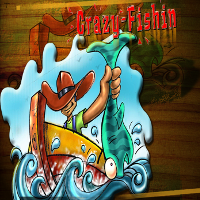 Crazy-Fishin - Unity Source Code
Crazyfishin is a 2D casual game
Overview
There are different types of fish which has got corresponding points. The good fish has got the positive points and bad fish has got negative points. There are also missiles which will destroy your fishing equipment. so you need to avoid them.
The difficulty level increases with each level.

This game could be enjoyed by both young and old and You can add more levels also.
Unity Ads integrated. 
If the user plays the rewarded video, the player can advance to next level.Please replace my gameid with your gameid for unity ads.
Features
Very interesting Gameplay
2D casual game
Integrated background music and other important sound effects
Well-commented codes
Ten levels added
Easy to add more levels
Unity Ads Integrated