Social Profiles - WordPress Plugins
This plugin creates an easy way to display social profiles and contact details on your website fromsocial media channels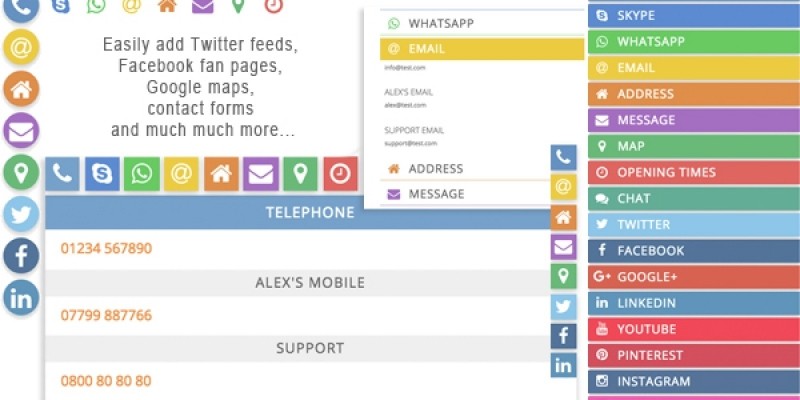 Overview
This plugin creates an easy way to display social profiles and contact details on your website without the need for any code.
It displays the information in tabs or an accordion, so only one section is open at a time, which ensures your website does not become cluttered visually. The details can be displayed in widget or as a shortcode in the main body of your website.
The plugin includes a plugin admin page where it is possible to customise everything from the social profiles to the visual styling of the plugin.
Features
Widget content displays in a jQuery accordion or jQuery tabs.
Display the content using a widget or a shortcode.
Display main telephone number along with fax and 3 personal telephone numbers.
Display main email address along with 3 personal email address.
Display up to two addresses.
Display one button submit contact forms.
Display a Google maps of a location.
Display the following social channels: Twitter, Facebook, Google+, LinkedIn, YouTube, Pinterest, Flickr.
Customise the Twitter widget for different colour schemes and to show replies.
Customise the Facebook widget for different colour schemes, show news stream and show fans faces.
Button to automatically generate shortcode.
Decide which sections can appear each time the widget is displayed.
Change the colour of the accordion, grey, blue, red, green and black.
Two different icons sets: colour and grey.
Ability to change the size of the icons.
Select accordion section to open on page load.
Ability to make the accordion all collapsible and load with all section closed.
Choose which accordion and tabs section to display on page load.
Vertical tabs as well as horizontal.
Ability to manually load jQuery to increase compatibility.
Troubleshooting section to ensure any problems are resolved quickly.
Support requests answered in less and 24 hours on average.