Secure Login Registration And User Management
Secure Login Registration And User Management
Super Secure PHP Script all Data Transferring In Encrypted With 256 Bit Sha AES Security
Secure Login Registration And User Management
Super Secure PHP Script all Data Transferring In Encrypted With 256 Bit Sha AES Security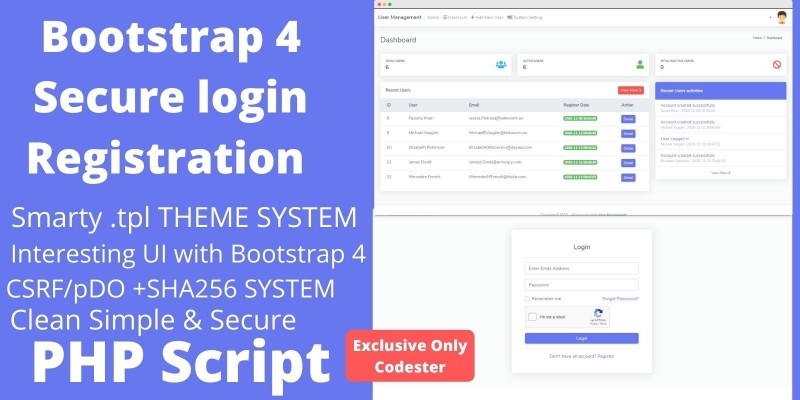 Overview
This is a feature packed PHP Secure login management with TPL System script that includes a beautiful dashboard UI to make getting started on your next app a breeze! Check out the demo now!
Demo and Documentation
Security
CSRF Protection – all forms include CSRF token
Session Protection – highly secure Laravel session mechanism
Highly secure one-way password hashing
Features
Very Easy to Install! – Use our built in installer for super fast setup
Beautiful Login/Register Forms – Get an awesome start on your next app
ncludes Admin Backend Dashboard UI – Panels, Stat Boxes, Side and Top Menus, SweetAlerts and More
Login Expiration – Set timeouts and warning message timeouts to log off inactive users
Password Forgot/Reset – Secure Pin/Email method for password resetting
User Management – Add/Manage/View all of your existing users, including registration date
Last Login – View when a user last logged into your system
Unlimited User Levels – Create and secure content based on unlimited user levels you define
Multi-lingual – Includes 4 built in languages – add your own easily!
Profile Page – Users can update their gravatar, profile information and change password
Redirect by User Level – Setup different login redirects based on user level
Logout Redirect – Setup different logout redirects based on user level
Built with Boostrap 4 – Clean code and easy to modify
Reliable and Organized Mysqli Database – Installer lets you add table prefixes
Other great features – Check out the demo
Login As Client – For admin without Username password Login to user account
Smarty TPL – Smarty .tpl theme system included
Requirements
PHP >= 5.6
PDO PHP Extension