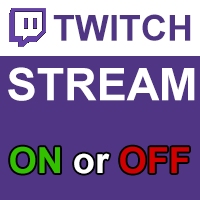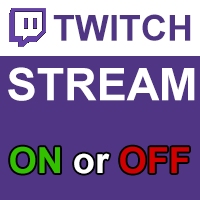 Twitch Status Tool PHP Script
Twitch Status Tool PHP Script
a PHP based Tool, that returns the online or offline status of a twitch.tv streamer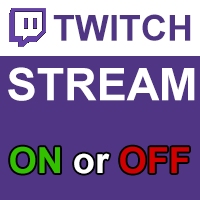 Twitch Status Tool PHP Script
a PHP based Tool, that returns the online or offline status of a twitch.tv streamer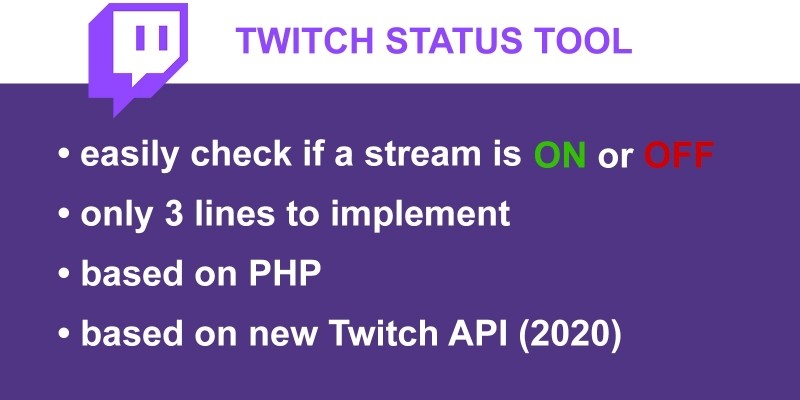 Overview
a PHP based class that you can use as a tool for your webapplication or website to get the current online or offline status of one or many twitch.tv streamer
Features
very easy to use
fast implementation: only 3 lines of code needed
automatically gets the OAUTH token after first script runtime
automatically refreshes the twitch OAUTH token (expires every 60 days)
Requirements
basic PHP knowledge
PHP Version: at least v5.6 - but v7 and higher is recommended
Server needs to have permissions to read and write to the config-File
cURL needs to be enabled in the php.ini / allowed on the server
Instructions
1: Register your app to obtain a client ID and client secret
https://dev.twitch.tv/console/apps/create
2: Paste your Client ID and Client Secret into the config.ini file into the according keys
3: Download the package, extract it and copy the files into the folder of your website / webapp (where the websites main index.php file is located). 
If you want, use the provided "example/index.php" to learn how to use this tool first, before implementing it into your website!
For Example:
if you want to add the livestream status on the mainpage, it often is the "index.php". Extract the files where the "index.php" is.
if you have a page like "/streamers", go to the folder for the streamers php files and extract the files here.
If you want, you can also create a new folder (but keep in mind that you then have to change the require path).
---
After that, you only need to insert these three lines into your PHP File (in most cases "index.php") to get it running:
require('twitch_status_tool.php'); // change path if you created a folder
$yourChannelName = new StreamerStatus("YourChannelName");
$yourChannelNameStatus = $yourChannelName->returnLiveStatus(); // result: "online" or "offline"


Additional Notes:
Change the require Path if you created a folder.
Change "YourChannelName" to the Twitch Channelname for which you want to get the current online / offline status.