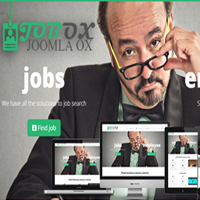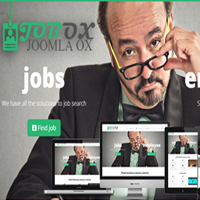 JOBOX - Joomla Jobs Template
JOBOX - Joomla Jobs Template
JOBOX Jobs and employment and training courses , JOBOX is a sleek, clean, fully responsive and perfect horizontal onepage respons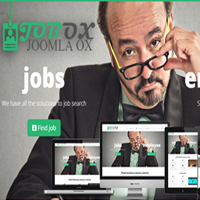 JOBOX - Joomla Jobs Template
JOBOX Jobs and employment and training courses , JOBOX is a sleek, clean, fully responsive and p...
Overview
JOBOX  Jobs and employment and training courses , JOBOX is a sleek, clean, fully responsive and perfect horizontal one page responsive bootstrap template. This multi-purpose design can be used for any type of websites like corporate, agency, nonprofit, consultant agency, freelancer or general business or small business. Also when your company needs to inform the public about your latest product or mobile app a one-page website is a great solution for such an announcement.
Onsite is a responsive One page template for Joomla 3.6.2 . It runs on our brand new Helix 3 Framework with tons of backend customization config options. It gots a fullscreen slider with custom page captions, an Awesome portfolio and contact form, a blog and 4 different styling options. It comes in 4 presets and an interesting new module ET Ultra Slideshow module, which you can see in live action as onepage section on the demo site.
Features
Powered by Helix3 Template Framework
Great for – small business, portfolio website, product page, marketing purposes, personal trainers etc.
Advanced Template Options Panel
One Page OnScreen Horizontal Scroll Effect
Fully Responsive Layout
HPSL5 & CSS3 Animations Effects for modules
Powerful SP Page Builder
4 Predefined color styles with unlimited color style possible
Boxed and Wide Layout
Boxed Layout with different Background Images
Off-Canvas Menu
Megamenu
SP Simple Portfolio
Fixed Position Navigation Menu
Joomla 3.4+ Ready
Supports Latest FontAwesome Icons
LESS to CSS compilation feature
All required Extensions (Modules, Plugins and Components) Included
Bootstrap 3 grid layout system (12 columns support – Fluid Layout)
Various Layout and Positions
Google Analytics integration
CSS and JS compression options
Google Map Integration
Over 640+ Google Fonts
Font Awesome Icons
About Us Page
Services Page
Contact Page
Standard Joomla Blog Layout
Video Joomla Blog Layout
Audio Joomla Blog Layout
Gallery Joomla Blog Layout
Link Joomla Blog Layout
Quote Joomla Blog Layout
Status Joomla Blog Layout
Image Joomla Blog Layout
Social Icons Integration
Logo uploader
Supported by all latest browsers
Clean and Fresh looking
Loading CSS animation (fadeIn, rollIn, bounceIn and lots more) option for different blocks
Extensive documentation
404 error page
Offline Page
Coming Soon Page
components Is Free
JS Jobs  :-
JS Jobs offer to employer to register his company and post jobs. Job seeker register him self and add his resume. He can search job and apply on it. Employer will get resume in applied resume section.
Highlighted Features
* Easy, simple and powerful.
* Latest design.
* Mobile ready responsive layout.
* Unlimited jobs
* Build-in search
* Refine search on job listing page
* Job listing with latest style (job auto load on base of scroll, no need to click for next page)
* Unlimited user fields (text box, drop down, multi-select, check box, radio button, date, email address, text area, depended field and upload field)
* Highly configurable with 200+ configurations available for admin
* Multi-language
* Radius search on Geo Coordinates
* Google Map
* YouTube for job
* Applied resume
* Meta keyword & description for job
* Enforce unpublisheded job by number of x days
* Admin can change field ordering of company, job and resume
* Email templates
* Stats
* Search Engine Friendly URLs
* Modules
* Plug-ins
* and more ...
Employer
* Control panel for employer
* Packages for employer
* Employer add company with logo
* Powerful post job form (35+ fields for form job)
* Save time with flexible and powerful resume search interface
* Search resumes by application title, name, nationality, gender, availability, category, job type, salary range, education, experience
* Save resume search
* 60+ configurations for employer
* Departments
* Meta description & Meta Keywords for job
* Google map for job
* YouTube video for job
* Professional display of job searches and resumes
* View job applied resumes with number of applied resume
* Download resume file
* Resume export to PDF
* My stats
* Notification on company approval / rejection
* Notification on job approval / rejection
Job Seeker
* Control panel for job seeker
* Package for job seeker
* Powerful resume form with 70+ fields
* Resume manager (resume form, upload resume file, resume editor, image upload)
* Job listing with latest style (job auto load on base of scroll, no need to click for next page)
* Job listing by company
* Search jobs by title, category, job type, job status, salary range, shift, experience, duration, publishing date, company, location etc
* Save job search
* Allow multiple resumes
* 75+ configurations for job seeker
* Cover letter manager
* Allow multiple cover letters
* View my applied jobs
* My stats
* My purchase history
* Notification on resume approval / rejection
Administrator
* Administrator control panel with latest style
* Graph at admin control panel
* Highly configurable with 200+ configurations available for admin
* Companies listing with filter
* Companies approval queue
* Companies user fields
* Jobs listing with filter
* Jobs approval queue
* Jobs user fields
* Jobs applied resume
* Resume listing with filter
* Resume approval queue
* Resume user fields
* Departments
* Packages for employer
* Packages for job seeker
* Categories
* Salary Ranges
* Email Templates
* Manage locations in address data
* Manage job types
* Manage job status
* Manage shifts
* Manage educations
* Manage age
* Manage career level
* Manage experience
* Manage currencies
 Yendif Video Share :
Yendif Video Player is a kind of media player for playing back digital video data. Now, Creating an awesome video player in your Joomla! Websites has become simple by using Yendif Video Share - a powerful video player and gallery extension. It works well in both Flash and HTML5 engines. Responsiveness is the major aspect of this video player extension. Here, Video Player is designed in such a way, to automatically pick the best playback according to user's browsers and gadgets. This makes your video player, playable anywhere. You can create playlists, to play a list of videos in loop. You are also provided with several backend configurations for video player and playlists which makes your websites more appealing.
Other than adding videos, you can also Comment, Rate and Like or Dislike videos.Videos playing in a video player or playlists can be stopped publishing automatically after certain date.You can even share the videos playing in your video player using social networking site. Another important aspect of this video player extension is SEF - options to build your own links structure. You are provided with following modules - Video Player, Video Playlists, Videos Search, Video Categories and Videos. Apart from it, Yendif video share player plugin is intergrated, which helps you to display video players or video playlists in the article(content) pages using plugin shortcodes.
General Features
A beautiful HTML5 & Flash based Responsive Video Player
Play well in mobiles, tablets & desktops
Vast amount of player configuration options
Support responsive templates
Beautiful and Powerfull video gallery system to display video/category thumbnails
Ability to sort categories & videos as Latest, Popular, Featured, Most Rated, Date Added, Custom Ordering
Comment & Rate videos
Add your own social share script (ex:addthis)
Videos embeddable to other websites
Subtitling video(support only one language)
Track the player events through your Google Analytics account
Control playback through keyboard shortcuts
Supported Formats
MP4, M4V, FLV, MOV, WEBM, OGG
Play YouTube URLs
RTMP Streaming and ability to add HLS stream as the mobile fallback
Admin Features
Simple & powerfull admin interface
Create unlimited categories & sub-categories
A flexible video management system to add, edit, delete, publish & unpublish all user/admin videos
Control user access permissions for each category & video
Flexible menu layouts and Modules to design the site front-end
Add videos & video playlists to article pages using plugin shortcodes
Images optimized for better site performance
User Features
Watch videos based on the access permission set by the admin
Add Videos
Can edit/delete own videos
Comment videos
Rate videos
Embed videos to your website
Share video page to your social networking site
Requirements
 PHP 5.3.1 is required for versions 3.0 through 3.2. At 3.3, the minimum is raised to PHP 5.3.10. Only Joomla! versions 3.5 and later are compatible with PHP 7.
 Joomla is not yet compatible with MySQL 6.x.
Instructions
Before we start installing Joomla!, there are a couple prerequisites that need to be met to install Joomla! 3.x successfully. These apply whether you have a dedicated server, a shared hosting plan server, or are installing a copy on a local computer for testing or development.