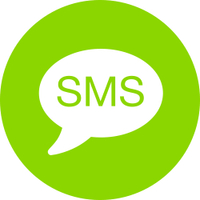 Receive SMS Via Virtual Numbers - Android App
Receive SMS online for free with temporary SMS and disposable virtual phone number for Android
Overview
Temporary Sms Receiver which will provide you with free virtual & temporary phone numbers.
Get an international phone number: Select a number in china, us number phone or any other temporary phone number from many different countries.
Privacy is important and our goal is to make you easy for you to verify and register for various websites without revealing your own phone number and contact information, so you will give a fake phone number to strangers instead of a real phone number.
Instead of getting another phone number or a burner fake numbers, you can use our SMS receiver to register in dating apps, texting apps, online services, shopping, and many more.
For receiving SMS online, we provide temporary phone numbers that can receive SMS on line from all over the world, no matter where the SMS senders from. All for free and without any charges or fees.
This library was specially built for those in need of having a fake phone number, a USA phone number, or an online SMS receiver APP
Download demo apk : Download
Features
30+ Free Virtual Numbers
Get last 50 received Messages
Fb Audience Network Ads
Lightweight Library
100% Free (you don't need to pay anything)
Requirements
Android studio installed
Fb audience network account
Google dev account (For app publishing) 
A little coding knowledge
Instructions
1. Unzip the main file you downloaded
2. Open Android Studio And Click on "Open an existing Android Studio project"
   to open Android Studio project
3. Select your unzipped project directory from the 'Open file to Project' dialogue
   and click on the OK button
4. Wait until project sync and build
5. Thats all!
For more : please read the documentation file