Flag Defender - Completed Unity Project
Ready and Completed Unity Game Projects - Flag Defender.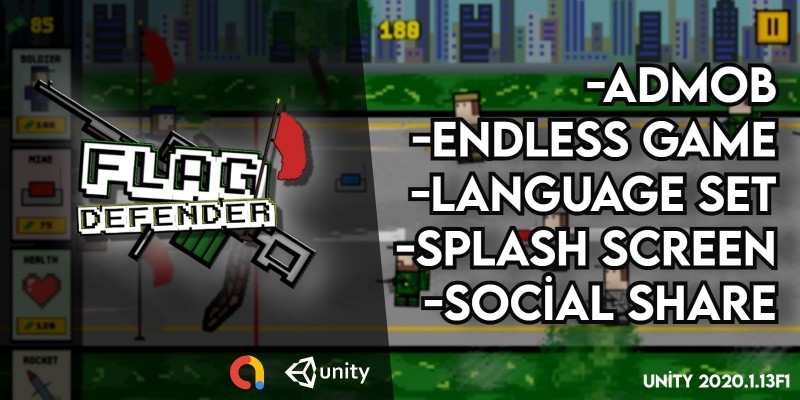 Overview
The project was made with the Unity 2020.1.13f1 version.
Designed for Android 4.1-(highest). It is designed for all screen size. It has an advanced UI system. You can publish the game seamlessly.
The game has an advanced setting system. The best visuals were used. The game works with a simple algorithm. It has simple coding. The codes are understandable. Perfect for learning Unity and programming.
There are Share buttons in the game. You can seamlessly add your own Facebook page and Instagram accounts. There are useful advertising areas in the game. There is an adjustable Splash Screen in the game. Just add your own logo.
Admob has beed added to the game. You can design the advertisement as you want. You can earn money by seamlessly adding your own Admob account. There are very good places for advertisement in the gam

---
ABOUT GAMEPLAY:
Flag defender is a highly addictive, quality 2d android game. Flag defender will engage players with endless gaming fun. There is a simple store system with playtime in the game. A soldier to help you in protection, you can buy bombs, health regeneration, 2x power or items to launch rockets on enemies.
---
If there is a problem, please contact us:
Good Luck !
---
Features
Simple Adjustment
Conatins Admob ad
Endless game
Share
Android 4.4+
Best background music
Best sound fx
Adjustable Splash screen and Share system
Simple algorithm and coding
Earning money
Shop system in gameplay
Language selection
Made with unity
Pleasant interface
Requirements
Unity 2020 or higher
Visual studio or MonoDevelop
Instructions
-You can easy change settings all of game process
-You can contact us for solve your problem.