Age After MakeUp - iOS Source Code
Age After MakeUp - iOS Source Code
Have you always wondered how you look after makeup
Age After MakeUp - iOS Source Code
Have you always wondered how you look after makeup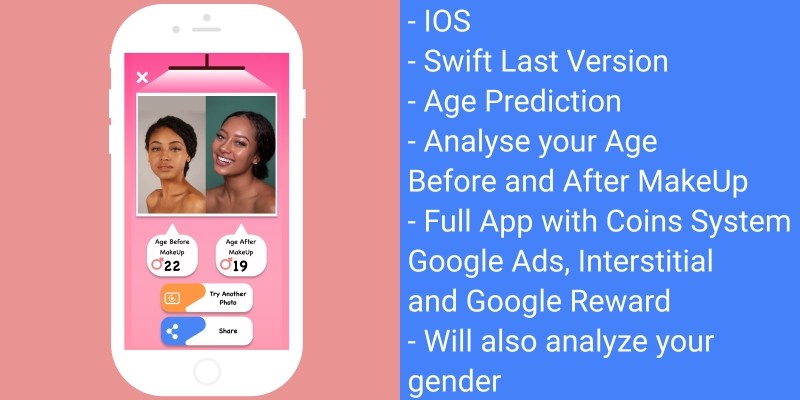 Overview
Have you always wondered how you look after makeup? But did you think how old you look before and after makeup? So Age after MakeUp shows how many years you look before and after makeup, you just have to follow these 3 points that I wrote below:
1. Upload a photo from the gallery where you are without makeup.
2. Upload a photo from the gallery where you are with makeup.
3. The program will analyze your face and show you how old you look before and after makeup.
 
With Age after MakeUp, you can check whether you have made a successful make-up for yourself and how many years you look, you can also share the result with your friends! Enjoy this one
Features
- Check whether you have made a successful make-up for yourself and how many years you look
- Share the result with your friends!
- Also analyze your gender!
Requirements
- macOS
- iPhone or iPad Device
Instructions
A) How install app on your iPhone or iPad - top
- Open the Xcode application on your mac if you don't have this app you can easily free download it from AppStore. After you done it, open file "HowOldAreYouAre.xcworkspace"
- After connect your iPhone or iPad on your Mac via USB cable. Open Xcode and
- Select your iPhone…Device on XCode Application on your MacOS
- Press play button to instal on device or iPhone.
- Wait until app is installed on your iPhone.
B) How to use the application - top
- Upload a photo from the gallery where you are without makeup.
- Upload a photo from the gallery where you are with makeup.
- The program will analyze your face and show you how old you look before and after makeup.
-  Share your result to friends!
C) Code Info - top
In file Keys.swift you can change the keys for Google Ads like Interstitial, Banner, Google Reward.
Also you can edit and the Privacy Policy in this file